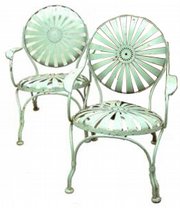 The front porch is coming back. In the early 1900s, houses were built with a front porch so the family could sit and talk to the neighbors walking by. Today, restored old houses and new houses in small community settings again feature a front porch. The porch needs special furniture, perhaps a swing or glider and other chairs, all made of weather-resistant material. The Howell Manufacturing Co. of St. Charles, Ill., hired a German designer in the 1930s to create a modern line of outdoor furniture. The chairs were steel and had a spring to make a comfortable seat. There were chairs, loungers, gliders, rockers and tables. The gliders had upholstered seats and backs or fitted cushions. The other chairs were colored with a baked-on enamel. About 10 years ago, several dealers began to go through old sections of big American cities buying the old metal furniture still being used on front porches. They offered the furniture at flea markets or stripped the old paint and powder-coated the pieces, giving them a permanent finish. One very popular style, the pinwheel spring steel chair, is said to have originated in 19th-century France. A pair of these chairs in very good condition auctioned recently for $575. You might be able to find some at a local sale in a neighborhood old enough to have houses with front porches.
Current prices
Current prices are recorded from antiques shows, flea markets, sales and auctions throughout the United States. Prices vary in different locations because of local economic conditions.¢ Frostie Root Beer bottle, by 7UP, cap, contents, Jasper, Ala., 1950s, 10 oz., $15.¢ Kellogg's Corn Flakes cereal box, red and black, advertises Kellogg's Krumbles and Pep, c. 1939, 11 inches, $65.¢ Roseville Juvenile feeding dish, Nursery Rhyme, Hickory Dickory Dock, 8 inches, $80.¢ Carnival-glass bowl, Good Luck pattern, piecrust edge, basketweave back, marigold, $295.¢ Coverlet, wool and cotton, red, white and blue, John Kaufman, Bucks Co., Pa., 1841, center medallion, 12-point stars, fringe, 90-by-74 inches, $310.¢ Canton porcelain tureen, oval, cover with stem handle, boar's-head handles on bowl, 1875, 6 1/4 inches, $385.¢ Mohair teddy bear, gold, glass eyes, horizontal twill nose, fully jointed, football-shaped body, small hump, Ideal, c. 1910, 20 inches, $470.¢ Show towel, linen, homespun, alphabet, flowers, birds, Sarah Ann Kline, c. 1842, 68-by-20 inches, $525.¢ Kestner doll, closed mouth, pouty lips, blond hair, pink cotton dress, jointed, 14 inches, $1,495.¢ George III-style dining table, inlaid mahogany, rounded corners, molded skirt, square legs, 1930s, 42-by-62 inches, $1,875.
Q: I have been searching for someone to tell me who made my lamb cookie jar. The only mark on the 13-inch jar is "USA." The lamb, sitting on his hindquarters, is beige with pink accents on his cheeks and ears. The lid is his hat, which is yellow and shaped like an upside-down flower. There's a brown collar around his neck, and his hooves are black. The jar belonged to my mother, who bought it in North Carolina in the late 1950s or early '60s. Can you help?
A: Your cookie jar was made by American Bisque Co. of Williamstown, W.Va. Unfortunately for collectors, the company marked most of its jars the way yours is marked. American Bisque was founded in 1919 to make doll heads. It appears to have started making cookie jars in the late 1930s. Until the factory closed in 1983, it made more cookie jars than any American company other than, perhaps, McCoy. Your jar, if in excellent condition, could sell for about $150.
Q: My pressed-wood mantel clock must be about 150 years old. The clock's name, printed on the back, is "Donita."
A: Your Donita clock dates from the 1880s. It was made by the E.N. Welch Manufacturing Co. of Bristol, Conn. The company was founded in 1864 by Elisha N. Welch (1809-1887) and became the largest and most successful clock company in the country. The Donita model was also sold as a wall clock. Either model sells today for about $200. Welch's company became the Sessions Clock Co. in 1903.
Q: In a 1972 newspaper column, the Kovels wrote about a pressed-glass covered jar with a figure of Jumbo the Elephant on the cover's finial. You said it was made about 1884. I'm looking for information about this glass.
A: Showman P.T. Barnum bought a huge elephant from the London Zoo in 1882 and brought it to the United States for his circus. He named the 6-1/2-ton animal - the largest in captivity - Jumbo. Jumbo-mania swept the country, and souvenirs of all sorts were made. Canton Glass Co. and Brilliant Glass Works of Ohio and Central Glass Co. of West Virginia were among the companies that made Jumbo pressed-glass pieces. Compotes, condiment sets, covered jars and other glass dishes in a Jumbo pattern were made in the 1880s. Jumbo's time with Barnum was short. He was hit by a train and killed in 1885. He was stuffed and displayed at Tufts University outside of Boston until 1975, when he was destroyed in a fire. Jumbo became a symbol of Barnum's circus, and his name continues to this day to refer to something very large, from jumbo boxes of popcorn to jumbo jets.
Copyright 2018 The Lawrence Journal-World. All rights reserved. This material may not be published, broadcast, rewritten or redistributed. We strive to uphold our values for every story published.