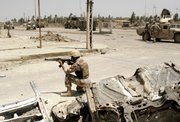 Baqouba, Iraq — Hundreds of U.S. and Iraqi troops, under cover of F-16s, fought their way into three neighborhoods of besieged Baqouba on Friday to help clear Diyala province of entrenched insurgents. To the north of the city, American helicopters killed 17 al-Qaida gunmen trying to sneak past a checkpoint.
As the mission of 10,000 U.S. soldiers to take back the volatile and extremely dangerous province intensified in its fourth day, so have concerns about keeping al-Qaida fighters on the run. The terrorist fighters and their allies already have been run out of Fallujah and Ramadi in Anbar province, only to regroup in Diyala's capital of Baqouba and surrounding districts.
The U.S. ground forces commander, Lt. Gen. Raymond Odierno, said more than three-quarters of Baqouba's al-Qaida leadership fled before the Americans moved into the city this week. At the time, drone observer planes spotted fighters planting dozens of roadside bombs on the main highway into Baqouba.
Brig. Gen. Mick Bednarek, assistant commander for operations with the 25th Infantry Division, estimated that several hundred low-level al-Qaida fighters remained.
"They're clearly in hiding, no question about it. But they're a hardline group of fighters who have no intention of leaving, and they want to kill as many coalition and Iraqi security forces as they possibly can," Bednarek said Friday.
"It's 24-7 for us here, and it's probably the same for our adversary as well," he said. "It's house-to-house, block to block, street to street, sewer to sewer - and it's also cars, vans - we're searching every one of them."
An Associated Press employee in Baqouba reported heavy fighting as U.S. troops swept into three eastern neighborhoods in Friday's operation, which began after U.S. forces warned residents to leave or stay indoors.
The American military said the 17 al-Qaida fighters were killed trying to flee past Iraqi security blockades on the road to Khalis, a predominantly Shiite city northeast of Baqouba.
Earlier this week, creeping house-to-house through western Baqouba, U.S. soldiers made a startling discovery: a suspected al-Qaida field hospital stocked with oxygen tanks, heart defibrillators and other medical equipment.
The find displayed al-Qaida's sophisticated support network in Baqouba, a mostly Sunni town of about 300,000 people, located 35 miles north of Baghdad.
And that may presage great problems in an outright defeat of al-Qaida even if U.S. forces succeed in ousting the group from Baqouba. The city has received little aid or other services from the central government, which feared supplies would end up in al-Qaida hands.
Copyright 2018 The Associated Press. All rights reserved. This material may not be published, broadcast, rewritten or redistributed. We strive to uphold our values for every story published.