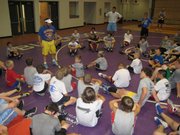 Baldwin City — Wrestling mats made a rare summer appearance on the floor of Collins Center at Baker University this week.
The last four days, those mats were covered with about 80 youth wrestlers who came to learn from former Olympian Ken Chertow.
Although Chertow didn't medal at the 1988 Olympics in Seoul, South Korea, he taught campers to have a championship mentality when they grapple.
"We're training kids to win the state titles and win the state gold," he said of the training process at his Gold Medal Training Camp, which he'll take to 23 cities across the country this summer.
Chertow's camp made its way to Baldwin City thanks to the help of Baldwin High wrestling coach Kit Harris. He took a group of youths to Chertow's camp last summer in Kearney, Neb., and talked with Chertow about bringing it to Kansas.
"There's a lot of youth and scholastic wrestlers in Kansas," Harris said. "We have great numbers."
However, Harris said he would like to see more collegiate opportunities locally for those wrestlers, noting that he would love to see varsity programs at Baker and Kansas University.
Chertow agreed.
"One of the reasons I wanted to be out here was to help promote the sport in the community and try to help Baker University grow the popularity of wrestling," he said.
The former Olympian and Penn State All-American said the campers, between the ages of 6 and 18, showed a lot of potential at the camp, which wraps up today.
"The quality of kids here is good," he said. "I don't run your typical camp where beginners come to it. It's for kids who are already into it and want to take their game from good to great."
Nick Rockwell, a rising senior at Baldwin who was Class 4A state runner-up for the 119-pound weight class last year, said he learned things at the camp that he'd apply during his senior campaign.
Rockwell said he thought the younger campers would benefit most from the experience because they learned advanced skills at a young age.
"That way you have more time to perfect the moves they're showing you," he said.
Cameron Christian, a 12-year-old from Baldwin City, said he learned how to perfect his favorite move, the twister, which involves coming under an opponent's arm and flipping him for the pin.
Chertow said campers will leave with more than moves and techniques.
"I try to teach the work ethic, the intensity, the goal-setting skills it takes to excel in all sports and in their life and school," he said.
Chertow said he plans to bring the camp back to Baldwin City.
Copyright 2018 The Lawrence Journal-World. All rights reserved. This material may not be published, broadcast, rewritten or redistributed. We strive to uphold our values for every story published.