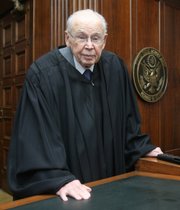 Wichita — Just before stepping into his robe and climbing the steps from his chambers to his courtroom, the Honorable Wesley Brown explained why, at 100 years old, he had not yet retired.
"When I was appointed, it was for life or good behavior - whichever I lost first," the senior federal judge said, with a quiet chuckle.
Brown, a Hutchinson native, celebrated reaching the century mark Friday. For 45 of those years, he's served as a judge for the U.S. District Court in Wichita after being appointed by President John F. Kennedy in 1962.
In his four decades as a federal judge, Brown has heard myriad cases, including everything from civil rights to civil disobedience. He's also heard his share of high-profile cases, including the most expensive case in Kansas history: a multimillion-dollar dispute over who owned the helium in natural gas. The case began in 1963 and lasted 25 years.
But Brown doesn't distinguish one case as more important than another. Rather, he said, it's his job to see that, in every instance, justice is done.
"Every case is important to the litigant," he said. "Your litigants are the ones you are concerned about. Your efforts are to ensure they receive a fair trial."
That's something the judge says he learned through a variety of lessons during the 55 years of his life before his appointment - a time spent mostly in Hutchinson, where he got his first taste of private practice and public service.
On a recent morning, the judge took his place on the bench to hear two short cases - neither of which lasted more than five minutes.
Still, not only did "all rise" when Brown walked in, they also sat up straight and at attention for the duration of the hearings.
Brown runs a strict courtroom, one which lawyers know to enter prepared, said Brown's law clerk of 20 years, Michael Lahey.
"People are very respectful of him," Lahey said. "He's not someone who you want to disappoint. He is absolutely wonderful to work for."
Lahey said his boss has mellowed over the years.
"He used to really put pressure on the attorneys to perform and move the case," Lahey said.
It's not without compassion, though. For many years, Brown was in their shoes.
Brown started his career with the law firm of Williams, Martindell and Carey after graduating from the Kansas City School of Law, which later became the law school for the University of Missouri-Kansas City. Except for two brief breaks from the firm - one at age 27 when he was elected Reno County attorney and the other at age 37 when he joined the Navy - Brown spent his Hutchinson career practicing law there. In 1939, he became a partner.
Among Brown's notable achievements in Hutchinson is his work on the city's 25-year struggle to undertake a $7 million flood control project. The project, spurred by the flood of 1929, finally produced the city's current Cow Creek levee system in 1955.
In 1958, at the age of 50, Brown accepted an appointment as Kansas' second Referee in Bankruptcy, a position that would lead him to Wichita and, eventually, his current appointment.
To understand why attorneys might be intimidated to present their cases before Brown, one needs only to sit before him in a courtroom.
And to understand why people like Lahey have great admiration and fondness for the judge, one needs only to sit before him in his chambers and listen.
That same morning, Brown sat behind an expansive wooden desk, explaining how great-grandchildren are as wonderful as grandchildren, why he's a fan of a good fiction read and that he has no desire to be on a pedestal.
"I still look up to all the people around me," he said. "I always have, from an early scoutmaster, to my partners to my mother and father."
Brown said humility is vital in his position - that he must always look at himself as a student of the law.
"Law practice is a very great profession," he said. "But like every other profession, it changes in how it helps its clients. It's something you never get done studying because the Legislature can repeal your knowledge at any time. I think I still learn more every day than most people do, because I have to."
Brown said age might have encouraged him to give up some of his hobbies - like bridge and golf, which he had to quit playing in January.
On the other hand, living through the past 100 years, seeing the triumphs and failures of the human race, has only served to spur Brown forward in his career.
"I enjoy being useful," he said. "I'm able to do that by being surrounded by bright, intelligent and helpful lawyers and staff."
Copyright 2018 The Lawrence Journal-World. All rights reserved. This material may not be published, broadcast, rewritten or redistributed. We strive to uphold our values for every story published.