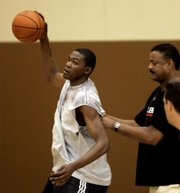 Portland, Ore. — Kevin Durant worked out with the Portland Trail Blazers on Friday, two days after Greg Oden, as both players show their talents to the team with the top draft pick.
Durant, a 6-foot-9 forward out of Texas, was the Associated Press Player of the Year this past season as a freshman.
"I feel good here," he said. "Like I belong here."
As with Oden, several dozen fans stood at the Blazers' practice facility south of Portland, hoping for an autograph. Local journalists came out in droves.
"That was as impressive a workout as any I've seen in here," Blazers general manager Kevin Pritchard said.
The Big 12 player and freshman of the year, Durant averaged 25.8 points and 11.1 rebounds - one of three players in the country to average more than 20 points and 10 rebounds.
He shot 47 percent from the field, 40 percent from three-point range and 82 percent from the foul line. He led the Longhorns in steals and blocked shots and scored at least 30 points a Big 12-record 11 times.
Texas, which started four freshmen, finished third in the Big 12 and went to the second round of the NCAA tournament, losing to Southern California. The Longhorns finished 25-10.
During his workout, Durant went through defensive drills, took shots from three-point range and dunked.
"There's not many things he can't do," Blazers coach Nate McMillan said. "He is a basketball player, and he showed that today."
The Blazers likely will choose between Oden and Durant when the NBA Draft is held Thursday in New York. Seattle has the No. 2 pick, meaning both players could land in the Pacific Northwest.
Copyright 2018 The Associated Press. All rights reserved. This material may not be published, broadcast, rewritten or redistributed. We strive to uphold our values for every story published.