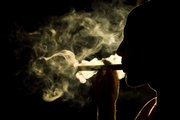 The Kansas Supreme Court once and for all extinguished the debate over the constitutionality of Lawrence's smoking ban: It's legal, justices ruled Friday.
And it wasn't even close. The state's highest court squashed a challenge from Lawrence nightclub owner Dennis Steffes like a Marlboro in an ashtray. The court sided with the city on every argument made in the case.
"We conclude : the Legislature has invited cities to regulate smoking in public places to the maximum extent possible," the court wrote in its opinion.
In other words, Lawrence doesn't need to make any changes to its nearly three-year-old law that prohibits smoking in nearly all indoor workplaces. The city also has the legal authority to make the ban stricter, the opinion suggests.
"I'm elated," said Kathy Bruner, who helped organize public support to create the Lawrence ban. "This was the decision we had hoped for. The wonderful thing about it is that it sets a floor, not a ceiling."
That's the most troubling part about the ruling for Steffes, who owns the nightclubs Last Call and Coyotes. He said he fears the ruling will embolden local governments across the state to become more intrusive on the practices of private businesses.
"This is a very dangerous day for free enterprise," Steffes said. "Very dangerous."
Steffes acknowledged that the court's ruling - which he said he respects - ends the legal challenge to the ban's constitutionally. But he said he will be watching the city to see how the ban is enforced and whether the city begins enacting other laws that threaten the rights of business owners. He said his unsuccessful challenge has done nothing to dissuade him from challenging the city in the future.
"Depending on what the city does from here on out will determine whether we can stop all this, or whether it is just beginning," Steffes said.
City leaders said they were pleased with the ruling. Toni Wheeler, the city's director of legal services who argued the case before the court, said the case was being closely watched by other Kansas cities. The case was viewed as a precedent-setter in how far cities could go in establishing smoking bans.
Bruner said she hoped the disposition of the case would allow efforts to begin in earnest on a statewide smoking ban.
Steffes, who is a nonsmoker, said a statewide smoking ban may be an issue he ultimately lobbies for. He said that may be the best way to level the playing field for Lawrence businesses. He said his business' sales are down by 40 percent since the ban was enacted, and he believes some of his customers are going to nearby communities that do not ban smoking.
"What we really need is a smokeless society," Steffes said. "But I don't like living in a town where you can legally sell something but you can't use it. If it is bad for you to smoke inside my building, it is bad for you outside my building, too."
Reaction to the ruling among Lawrence residents was mixed Friday. Brett Baugh was smoking a cigarette outside a downtown restaurant. He said he was hoping the court would allow bars and other over-21 establishments to allow smoking if they chose. But he also said he was learning to live with the ban.
"It is still a huge pain to go outside and smoke in the winter when it is how many ever degrees below zero," Baugh said. "But most of the time, smoking outside is fine."
Paul Holmes was with his grandson, Grant, sharing an ice cream cone Friday. He saw nothing but positives from the ruling.
"I think it is excellent news," Holmes said. "The concept just makes all kinds of sense to me."
Bruner said she will be interested to see whether other Kansas cities use the ruling to create even stricter smoking bans, such as banning smoking on business patios or other outdoor areas. She said she could see the day where such bans would be the norm, but she doesn't plan on pushing for it in Lawrence anytime soon. There's also been no such talk in City Hall.
"I think the people in Lawrence are ready to put this behind them," Bruner said.
Copyright 2018 The Lawrence Journal-World. All rights reserved. This material may not be published, broadcast, rewritten or redistributed. We strive to uphold our values for every story published.