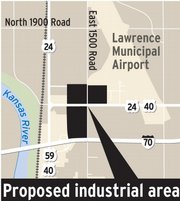 Rick Bryant discusses how the city's airport could impact future economic development
A Lawrence developer wants to build a 900-acre business park near the Lawrence Municipal Airport.
Jes Santaularia and his real estate company, Diversified Concepts, are filing proposals with Lawrence-Douglas County planners to convert the area south, east and west of the airport into a hub for distribution centers, warehouses, light manufacturing plants and offices.
"This will be the employment center for Lawrence, Kansas, for the next 25 years," Santaularia said.
Santaularia said he anticipated it would take more than two decades to fully develop the park, but it eventually would house 10,000 employees.
His company hopes to start construction on the first phase of the development by the end of the year. Santaularia has entered into a partnership with the Roger Pine family to develop about 140 acres around the intersection of U.S. Highway 24-40 and North Seventh Street. That property, which is just southwest of the airport, would house both industrial and neighborhood commercial uses such as restaurants, gasoline stations, dry cleaners and other businesses designed to draw business from North Lawrence residents.
Pine, whose family has been farming in the North Lawrence area since 1868, said he plans to relocate his company's sod farm operations if plans for the industrial development are approved. Pine, who is a state senator, said deciding to redevelop the property was difficult.
"We've been on the edge of the city for 15 to 20 years now," Pine said. "We felt like they city was going to come see us one way or another. We felt like it would be better to make that choice ourselves, and really try to do something with the land that we thought would be beneficial to the entire community."
Santaularia hopes that the Lawrence-Douglas County Planning Commission will consider the first phase of the plan in late July. The proposal ultimately will need approval from the City Commission. Santaularia also said he likely would request some financial assistance from the city and county to extend infrastructure - mainly sewer service - to the site.
Debbie Van Saun, assistant city manager, said previous estimates to extend city sewer service to the airport have been about $2 million.
Economic development leaders are urging city and county commissioners to invest in the project, despite tight budget times. Chamber president and Chief Executive Officer Lavern Squier said the community has been missing out on potential jobs because the city doesn't have the large industrial lots that businesses are seeking.
"We're seeing interest from large development," Squier said. "We need to have the capability to respond to these requests for 100-acre sites or larger."
The small supply of industrial sites in the county is what sparked Santaularia's interest. Anthony Santaularia - Jes' son and a member of the development team - said he's grown tired of watching companies bypass Lawrence for other nearby communities. He noted the Target Distribution Center that went to Topeka, and a recent announcement by Hills Pet Food to build a new plant in Emporia.
"They didn't even consider Lawrence because we didn't have a site to offer them," Anthony Santaularia said. "But they're going to make a $100 million investment in Lawrence. That is something we just totally missed out on."
Jes Santaularia said the new park would offer something unique. He calls it a "lifestyle park" that would feature an extensive trail system and large amounts of green space. He said the site is well suited for industrial development because it is adjacent to the Kansas Turnpike, U.S. Highway 59 and can take advantage of air transportation options.
Santaularia's company has secured all property necessary to move forward with the 140-acre, phase one development. But he only has about one-third of the total 900 acres needed for the entire business park he envisions. His company is in a partnership for 300 acres of land owned by the Pine family. Another 300 acres is controlled by the Kansas University Endowment Association, which has property just east of the airport. The remaining 300 acres is owned by 12 to 15 other landowners.
The eastern edge of the project would stretch to Grant School Road, also known as East 1600 Road. The western edge would stop just east of the KOA Campground near the Tee Pee Junction. Neither the Tee Pee Junction nor the Airport Motel - two longtime businesses in the area - would be forced to relocate as part of the project, Anthony Santaularia said.
The Santaularias have been working to build support for the project in the area. He's touting to North Lawrence leaders that the development would include some small-scale commercial areas to make shopping more convenient. He's also included a site for a fire station in the development, and has committed to build an extensive stormwater detention area that would attempt to divert a significant amount of drainage that runs through North Lawrence.
The project, though, is sure to spur numerous questions from residents in the area. Ronald Schneider is a Lawrence lawyer who lives just north and east of the airport. He's carefully watched previous attempts to develop near the airport. He said there are significant amounts of environmentally sensitive lands in the area. Schneider said he wants to learn much more about the project.
"This just sounds so ambitious that it seems like it would have tremendous financial and environmental implications," Schneider said. "It needs to be thoroughly studied."
Pine said he's sure that several of his neighbors will have concerns too.
"I'm sure not everybody will be on board with all the changes, and I can certainly understand that," Pine said. "For many years I would not have been excited about doing it either. I make no bones about that.
"But we just think change is coming to this area one way or another. We wanted to be part of the decision-making process rather than being concerned about what was coming our way."
Copyright 2018 The Lawrence Journal-World. All rights reserved. This material may not be published, broadcast, rewritten or redistributed. We strive to uphold our values for every story published.