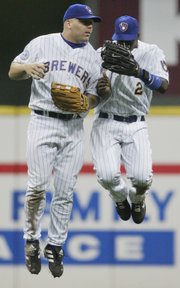 Milwaukee — Ryan Braun said he is not surprised by his offensive output less than one month into his major-league career. Brewers manager Ned Yost isn't either.
Braun had four hits - including a homer - and drove in three runs to help the Milwaukee Brewers beat the Kansas City Royals, 11-6, Friday night.
"He can hit. I don't know what to say," Yost said. "And he showed that he can hit. He showed that he can hit in the minors. He showed that he can hit in spring training.
"I wouldn't have put him right in the three hole if I didn't think he could."
Corey Hart also homered and drove in four runs for the first-place Brewers, who won for the eighth game in nine games since being no-hit by Detroit's Justin Verlander on June 12.
Hart extended his hitting streak to a career-high nine games and finished with three hits.
Jeff Suppan (8-7) struggled but won for the third time in nine starts, giving up nine hits and five earned runs in five innings. He struck out five and walked two.
The former Royal entered the game 2-5 with a 6.75 earned-run average in his last eight starts.
"I really felt like I was commanding my pitches in situations," Suppan said. "I thought they were getting some timely hitting on their part. Fortunately tonight was a great offensive night, and it was able to work out for us."
Mark Teahen had four hits for Kansas City, which has lost three in a row after winning four of five.
Former Brewer Jorge De La Rosa (4-9) gave up 10 hits and seven earned runs in five innings. He has lost his last six decisions, including one as a reliever after giving up a game-winning homer to the only batter he faced - Ryan Ludwick - in a 7-6, 14-inning victory by the St. Louis Cardinals on Wednesday.
"It wasn't as inconsistent as it had been," Royals manager Buddy Bell said of De La Rosa's performance. "There was more good than bad."
Milwaukee scored four times in the fourth inning to take a 6-2 lead.
Kevin Mench and Rickie Weeks doubled with no outs in the inning, and Suppan followed with a single to put runners on first and third. Hart then singled in Weeks. After Craig Counsell struck out, Braun lined a double into the left-field corner to score Suppan and Hart.
Ryan Shealy hit a two-run double in Kansas City's three-run fifth but Hart hit a two-out, three-run homer in the seventh for Milwaukee.
"I'm in a pretty good mind-set because I'm in there every day," Hart said. "Hopefully, I'm in there every day because I'm comfortable with it right now."
Brewers relievers - led by Carlos Villanueva, who pitched two scoreless innings and struck out the side in the seventh - held the Royals to one run in the final four innings.
Braun hit an opposite-field homer in the first inning, his fifth since having his contract purchased from Triple-A Nashville on May 24. He has 16 RBIs. It was his first four-hit game of his short major league career.
"I had a few in the minor leagues, but not too many," he said. "Obviously, they are pretty rare, and tonight was definitely a special one."
Braun also stole two bases, and was credited for a strange one in the sixth. He walked in his fourth plate appearance and took second without a throw while reliever Neal Musser was talking with catcher John Buck near the pitcher's mound. The play followed a wild pitch where Hart took two bases when Buck couldn't find the ball.
"We just weren't paying attention," Bell said. "The two bases (on the wild pitch) was just a matter of not knowing where the ball was. I can understand that, but the other one was unacceptable. You just can't allow that to happen."
Milwaukee moved to 26-12 at home, the best record in the NL.
De La Rosa was making his first career appearance against the Brewers after pitching for Milwaukee from 2004-2006. He was traded to the Royals last July 25 for Tony Graffanino, who homered in the sixth.
"I threw a lot of strikes, but they stayed down the middle," De La Rosa said. "One bad inning, really."
Notes: The Royals signed RHP John Thomson to a one-year contract Friday, two days after he was released by Toronto. He will pitch Monday against the Los Angeles Angels, Bell said. In a corresponding move, the Royals placed RHP Scott Elarton on the 15-day disabled list with a right foot sprain, a move retroactive to Wednesday. ... Brewers SS J.J. Hardy did not play after missing Tuesday's game with left hip soreness and leaving Wednesday's game with lower back tightness.
Copyright 2018 The Associated Press. All rights reserved. This material may not be published, broadcast, rewritten or redistributed. We strive to uphold our values for every story published.