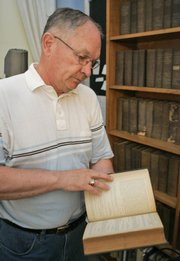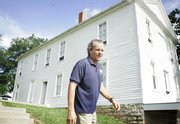 Lecompton's controversial historic past will be revived during its annual Territorial Days celebration today and Saturday.
In addition to living-history demonstrations, old artifacts will be on display, including the 150-year-old Lecompton Constitution - the document that would have made Kansas a slave state. Written in 1857 in Lecompton, it put the town in the national limelight during the pre-Civil War years.
Besides the constitution, the Kansas Historical Society also will display an ornate sword that belonged to Col. Henry Titus. Titus led a pro-slavery group in the 1856 battle of Fort Titus just outside Lecompton. His sword fell into the hands of a free-stater.
"It's really amazing that the state historical society still has all these things," said Paul Bahnmaier, president of the Lecompton Historical Society. "The story behind how they acquired these things is probably pretty interesting."
There will be a desk that belonged to George W. Clarke, a slavery supporter suspected of killing a free-state man. Someone later shot at Clarke as he sat in his Lecompton home reading at his desk. The bullet missed Clarke but hit his desk.
Other exhibits include color-coded election ballots from the 1857 vote to ratify the Lecompton Constitution and a certificate for one share of stock in the Lecompton Town Co., signed by the county's then-notorious Sheriff Sam Jones, who was secretary of the company. There also will be a $3 bill once printed as legal tender by the State Bank of Lecompton.
The artifacts will be on display in the Lecompton Territorial Capital Museum, where a special ceremony will be at 2 p.m. Saturday. Area representatives will recognize the importance of the Lecompton Constitution. Attending will be U.S. Rep. Nancy Boyda, D-Kan.; state Sen. Marci Francisco, D-Lawrence; state Rep. Tom Sloan, R-Lawrence; and state Treasurer Lynn Jenkins. Letters will be read from Gov. Kathleen Sebelius, U.S. Sens. Pat Roberts and Sam Brownback, and Kansas Secretary of State Ron Thornburgh.
Lecompton at a glance
Population: 589 in 2005, according to the U.S. Census Bureau.
Median age: 33.2 in 2000, compared with 35.3 for the U.S.
Median household income: $38,281 in 1999, compared with $41,994 for the U.S.
History: Lecompton served as Kansas' capital before statehood in 1861. In 1857, a pro-slavery convention met there, drafting the Lecompton Constitution, which never took effect but intensified the national debate over slavery. The building, Constitution Hall, still stands.
Festivities: The city's annual Territorial Days celebration is today and Saturday.
Directions: Take U.S. Highway 40 west to County Road 1029 and turn right. It's about 3.5 miles down the county road.
Activities abound at annual event
Today
6 p.m.-9 p.m.: Carnival and games
6:30 p.m.: Softball tournament begins
6:30 p.m.-7:30 p.m.: Registration for turtle, frog and bicycle races and talent show
7 p.m.: Cake walk in front of the bandstand
Saturday
7 a.m.-10 a.m.: Pancake feed, Lecompton Community Building
8 a.m.: Horseshoe tournament, and frog and turtle races
8:30 a.m.: Softball tournament continues
9 a.m.: Pioneer skills and living history demonstrations. Constitution Hall and Lane Museum open
10 a.m.: Line up for parade begins at Lecompton Elementary School
10:30 a.m.: Parade judging
11 a.m.: Parade
11:30 a.m.: United Methodist Church dinner
1 p.m.: Old-time games
1:30 p.m.: Author Robert Collins, Lane University. Book-signing and speech about Jim Lane
2 p.m.: Speeches by dignitaries about the importance of the Lecompton Constitution to the nation
3 p.m.: Bleeding Kansas play
4 p.m.: Bicycle races
5 p.m.: Schmalstieg pedal tractor
6 p.m.: Ice cream social in the park, talent show
7:30 p.m.: Pie throwing, with special guest Douglas County Commissioner Bob Johnson
9 p.m.-midnight: Concert featuring the Nodding Lizards
Copyright 2018 The Lawrence Journal-World. All rights reserved. This material may not be published, broadcast, rewritten or redistributed. We strive to uphold our values for every story published.