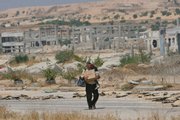 Cairo, Egypt — Egypt moved forcefully Thursday to isolate Hamas, calling a regional summit next week including the Israelis and Palestinians - and shunning contacts with the militant group after its takeover of Gaza.
More than seeking peace with Israel, Egypt and other U.S. Arab allies are seeking to prevent the new power of Islamic radicals in Gaza from strengthening fundamentalists on their own soil. They also fear Gaza will become a stronghold for Iranian influence.
Egypt in particular has much to lose. A strong Hamas ruling Gaza, on Egypt's border, could encourage the Muslim Brotherhood, the most powerful and popular political challenger to Egyptian President Hosni Mubarak's government. It also could foment Islamic militants that Egypt has battled for decades to put down.
Monday's summit in the Egyptian Red Sea resort of Sharm el-Sheik aims to boost moderate Palestinian President Mahmoud Abbas by showing he can move ahead with the peace process with Israel despite the Hamas hold on Gaza. The summit will gather Abbas, Mubarak, Israeli Prime Minister Ehud Olmert and Jordan's King Abdullah II.
The following day, Mubarak will meet in Sharm with Saudi King Abdullah, seeking to unify an Arab front behind Abbas and against Hamas.
Abbas will call for a resumption of peace talks with Israel, arguing that only progress toward Palestinian statehood can serve as a true buffer against Hamas, said Palestinian negotiator Saeb Erekat.
"The most important thing to realize is that time is of the essence," Erekat said. "We need to deliver the end of occupation, a Palestinian state. If we don't have hope, Hamas will export despair to the people."
Egypt, Jordan and Saudi Arabia have said the sole legitimate Palestinian government is the West Bank-based Cabinet formed by Abbas, who dissolved the power-sharing government between his Fatah group and Hamas after Gaza's fall.
Egypt moved its embassy from Gaza to the West Bank, and Egyptian Foreign Minister Ahmed Aboul Gheit indicated Cairo was shunning Hamas officials.
Copyright 2017 The Associated Press. All rights reserved. This material may not be published, broadcast, rewritten or redistributed. We strive to uphold our values for every story published.