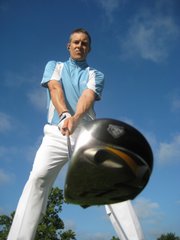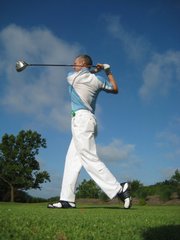 Call it golf's version of Fight Club.
Two years ago John Novosel delved into what he called golf's "underground" scene - long-drive tournaments.
Novosel doesn't have the look of a typical long drive combatant; he stands about 6 feet tall and weighs 165 pounds. Meanwhile, when he competes at big competitions - like the St. Louis Long Drive Classic he'll be driving in on Sunday - he routinely squares off with guys who are 6-foot-3 or taller and weigh from 240 to 270 pounds.
"Everybody I look at could just knock my socks off," Novosel said of the competition's physical appearance.
Luckily for Novosel, this isn't Fight Club. It's more like a golf club fight - a driver fight - and his socks aren't going anywhere. All the 38-year-old Bushnell Golf sales rep has to worry about is the flight pattern of his golf ball when he blasts it off the tee.
And he doesn't worry about that. He scrutinizes it. When the lefty tees one up as he practices for a long-drive competition, he has a device in tow that tracks the critical aspects of the ball's launch.
"This is truly rocket science," Novosel said as he practiced Thursday morning at Alvamar Golf and Country Club, where he and his father, John Novosel Sr., give lessons. "Club head speed is everything, and then after that it's ball speed."
Not to mention spin and launch angle, which his machine, hooked up to a laptop computer, also tracks.
"If you can measure something you can improve it," he said.
Novosel has been improving his drive since he began entering competitions in 2005. Having done some golf-specific fitness training for golfers in Lawrence, he decided to start training himself.
"One year I figured I needed to just see what I can do if I train myself like I train these other people," he said.
An integral part of Novosel's training regimen was the Tour Tempo Player, which his dad invented. It looks like a little green iPod, but instead of downloaded music, it plays beats and rhythms that golfers can use to synchronize their swings.
"You can't just swing fast. You've got to have the proper rhythm for that," Novosel explained. Once he got his timing down, he started hitting the ball 320 to 340 yards, and decided to start competing in long-drive competitions.
However, it wasn't as easy as he had hoped. At Novosel's first local long-drive tournament, he said, he got "blown away." His longest drive was 320 yards, while the winner hit one 350 yards into the wind. After that, Novosel "went back to the drawing board for a year" and changed the way he worked out. He quit doing things for strength and focused on gaining speed, power and flexibility. He also developed an intense practice routine, which involves a lot of stretching and a golf cart full of toys.
"I'm a huge believer in hard work, fundamentals and all that good stuff," Novosel said. "But for me - at my size - to compete at this level I've got to have every trick, every advantage I can get."
Eventually, it paid off. Novosel posted a 394-yard drive - his longest ever at a competition - and a second-place finish last year at a regional tournament in Denver. That motivated him to keep going.
Now Novosel practices two or three times a week. He hits about 40 balls per session, but often spends more time getting loose than ripping drives. What's more, since he started entering more competitions in 2006, he almost never plays a round of golf anymore.
"When I got into this last year, I quit playing, basically. Playing and long drive don't totally mix. I get six balls, two minutes and 45 seconds," he said of the competition's format.
That's not the only difference between a long-drive competition and playing a traditional round.
"There's no finesse," Novosel said of the long-drive tournaments. "I can get kind of jacked up, kind of excited, which you wouldn't want over a three-foot putt." He needs to get the adrenaline flowing because when he gets his club head speed near 140 mph "it's everything I've got," he said.
Novosel admitted he'll need to have everything he's got to win the $12,000 first prize at Sunday's St. Louis Long Drive Classic, which will feature 55 competitors and some of the world's most renowned long drivers, including Jason Zuback, who won the 2006 RE/MAX World Long Drive Championship. Novosel said Zuback, whom he could face in the second round in St. Louis, looks like a body builder and called him "the greatest long-driver ever."
Should Novosel advance to the second round, he won't have to out-drive Zuback to advance. The early rounds have eight golfers in a group, and the top four advance until the field dwindles to eight and match play begins.
This will be Novosel's first national competition, and he said he planned to sticking to his routine and not worrying about the stiff competition.
If he does that, Novosel may club his way to the top of golf's underground scene.
Copyright 2018 The Lawrence Journal-World. All rights reserved. This material may not be published, broadcast, rewritten or redistributed. We strive to uphold our values for every story published.