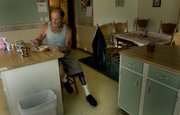 A Douglas County jury will deliberate this morning on whether to award nearly half a million dollars to a former city employee who claimed that Lawrence Memorial Hospital was responsible for negligence that ultimately resulted in the amputation of his left leg.
Attorneys for James Combest and LMH gave their closing arguments late Wednesday. After roughly 15 to 20 minutes of deliberation, jurors elected to return today to resume their work.
Combest's leg was severely injured in March 2001 when he was struck by a car and later pinned underneath a trash truck on West 24th Street. He was life-flighted to Kansas University Hospital and spent two weeks in intensive care. Seizures and a severe infection developed, but by July 2001, it had begun to heal, his primary physician, Dr. Stephen Munns, an orthopedic surgeon at KU, said in videotaped testimony.
Combest and his attorney, Michael Shunk, claimed that when a hospital volunteer pushed him in a wheelchair to a pre-operative surgery area in November 2001, part of his leg came into contact with a wall that broke his kneecap and furthered the infection.
Combest was undergoing surgery to have a catheter removed that had administered antibiotics to cure the infection.
It is that incident, Shunk argued, that set into motion a chain of events contributing to the amputation of Combest's leg in December 2001. Two LMH nurses took the stand: Teresa Dillon and Kathy Ramirez, who prepared Combest for the operation.
"He had a loose dressing on (the leg) that needed to be changed before surgery," Dillon said. "It looked like it was ready to fall off and needed to be changed."
Dillon changed the dressing and noted that Combest had mentioned that the volunteer had bumped his leg while in the wheelchair.
"He really didn't make a big deal out of that at that moment," Dillon recalled. "Our job was to get him ready for surgery ..."
The nurse told the court that she didn't recall Combest telling her he was in pain. But in a deposition she gave two years ago, Dillon said that he told her he was in pain before the removal of the catheter.
LMH attorney Richard Merker argued that something other than the wheelchair bump caused such a severe medical condition and that Combest took too long to report the injury to a doctor. He also tried to establish that the severity of the injury and infection would have contributed to the chance of him losing his leg anyway.
"What effect did the infection process have to do with the ultimate removal of the leg?" Merker asked Dr. David Clymer, an LMH physician who did not treat Combest, but reviewed his records before taking the stand.
Clymer answered that atrophy and bone weakening already present were what contributed to the amputation.
Under Kansas law, damages sought for pain and suffering are limited to $250,000. Combest has roughly $166,000 in medical expenses from November 2001 to the present, Shunk said. Combest hopes to receive a total of $461,650 in damages.
The jury will reconvene at 8:30 a.m. today.
Copyright 2018 The Lawrence Journal-World. All rights reserved. This material may not be published, broadcast, rewritten or redistributed. We strive to uphold our values for every story published.