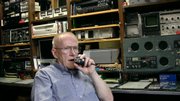 Amateur radio broadcasters, also known as hams, have communicated with and informed people all over the world for nearly a century.
Starting with Morse code and now moving into digital audio, one Lawrence man has used most of this technology and hopes to share his knowledge with the community at the annual Field Day, which culminates the national Amateur Radio Week.
The event will start at 1 p.m. Saturday in Building 2 at the Douglas County 4-H Fairgrounds, 19th and Haskell, and will last 24 hours until Sunday.
Ken Olson, of Lawrence, who has been operating ham radios since 1951, and several other area amateur radio operators will exhibit their radio stations and equipment as well as make contact with as many other hams in the United States and Canada as they can this weekend.
There are about 250 ham radio licenses and 50 active members of the Lawrence/Douglas County Amateur Radio Club, which sponsors the annual event, said club member Debbie Liddel.
Olson said that in past years, area operators have contacted as many as 300 operators across the country. They use a variety of methods to contact these people, including Morse code.
"Back in the older days, your first license was a learner's license and everybody was required to use Morse code," Olson said. "There are still a lot of people that are bound and required to use Morse code, but there are also people that use digital audio and other newer equipment."
He said ham radios are relatively inexpensive and are not hard to find. To get started, all that's needed is a simple radio and antenna, which can be purchased for less than $100 on the Internet or at vendors in the Kansas City area and St. Joseph, Mo.
"It's very inexpensive, in a way," Olson said. "But over a period of time, you build up equipment and eventually a whole station."
Olson has a mobile ham radio station, as well as a shed brimming with equipment he has purchased over the years.
He said he got into ham radio because of his high school physics teacher, who operated some radio equipment at the school. Olson said he always played around with radios and other electronics as a kid and eventually picked up ham radio as a hobby.
Since then, Olson has spent countless hours reporting on local races and the weather, making contact with people from California to New England, and making small talk with other local hams, which is mostly what he does these days.
"When you want to talk, you just press the button and someone's usually there to talk," he said.
Liddel said amateur radios can be important in emergencies such as Hurricane Katrina and the Greensburg tornado.
"It just depends on what happens," Liddel said. "If you go along around here when nothing happens, it's just for fun, but during events like Katrina and Greensburg, cell phones don't work and the Internet doesn't work, but radios do."
For Olson, though, it's always been for fun.
"It's something new every day and it's something you could do 24 hours a day," Olson said.
Copyright 2017 The Lawrence Journal-World. All rights reserved. This material may not be published, broadcast, rewritten or redistributed. We strive to uphold our values for every story published.