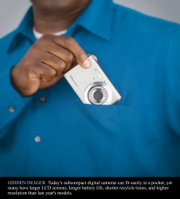 One of consumers' biggest beefs with small digital cameras is shutter lag - the delay between when the shutter is pressed and when the camera responds by making an image, according to Consumer Reports readers who responded to an online survey. A long lapse can allow a subject to move before the camera can capture it.
While shutter lag and next-shot delay (the time it takes a camera to recycle between pictures) still are downsides to downsized digital cameras, compact and subcompact models are faster than they were - and a handful of the small cameras CR recently tested scored quite well on both measures.
Quick clickers
When it comes to quick response, nothing beats a single-lens reflex camera. Digital SLRs, with their large image sensors and optical through-the-lens viewfinders, are fast off the mark when their shutters are pressed. But these cameras - some costing many hundreds of dollars - lack the value and versatility of compact models. And despite some downsizing, SLRs can't begin to match the convenience of pocket-sized subcompacts.
If speed, value and convenience are crucial, consider several small Sony models that distinguished themselves in CR's tests. In addition to high marks for shutter lag and next-shot delay, the compact 6-megapixel Sony Cyber-shot DSC-H2 ($330) and the subcompact 10-megapixel Cyber-shot DSC-N2 ($350) excelled at picture quality. Scoring slightly lower in that measure were the 7-megapixel Sony Cyber-shot DSC-T50 ($450), the 7-megapixel Cyber-shot DSC-T10 ($350) and the 6-megapixel Cyber-shot DSC-W50 ($180). All are subcompacts.
Two other diminutive digitals noteworthy for their speed are the Hewlett-Packard Photosmart R927 ($247), an 8-megapixel compact that produced very good pictures, and the Kodak Easy Share V570 ($200), a 5-megapixel subcompact with excellent picture quality. The Kodak lacks the HP's manual controls, while the Hewlett-Packard can't zoom to wide angle. Both cameras, moreover, tended to burn through batteries.
Photo finish
Although they may not be as quick, several other models from CR's tests produced very good or excellent photos, and featured manual controls. Best values for most people were the 5-megapixel Fujifilm FinePix S5200 ($250), the 7-megapixel Canon PowerShot A710IS ($300), the 8-megapixel Canon PowerShot A630 ($230) and the 6-megapixel Kodak EasyShare Z612 ($230). All are compacts.
For a standout camera that fits in a pocket, consider the 7-megapixel Canon PowerShot SD800IS ELPH ($400), the 8-megapixel Casio Exilim EX-Z850 ($280) and the 7-megapixel Pentax Optio M20 ($200). Like the quick-response Sony subcompacts, these cameras have very good battery life. They also have an image stabilizer that can compensate for a modest amount of camera shake - a feature lacking on the Sony Cyber-shot DSC-N2 and the Cyber-shot DSC-W50.
An image stabilizer is especially useful with a zoom lens greater than 3X (it refers to the ratio of focal lengths). Another useful feature now appearing in some small digitals is face detection. This allows a camera to lock in on faces to keep them in focus and properly exposed. Models CR tested that have face detection are the 6-megapixel Nikon Coolpix S10 ($280), the 10-megapixel Canon PowerShot G7 ($500) and the 6-megapixel Fujifilm FinePix F31fd ($350). All are compacts.
Despite the increasing prevalence of 7-, 8- and 10-megapixel cameras, a model with 6 megapixels should suffice - unless you often crop images heavily or make them into posters. Higher resolution doesn't necessarily produce better prints; lenses and other design factors are important, too. In CR's tests, several models with 4 or 5 megapixels had excellent print quality, while several with 7 or 10 megapixels had fair or good quality.
Copyright 2018 The Lawrence Journal-World. All rights reserved. This material may not be published, broadcast, rewritten or redistributed. We strive to uphold our values for every story published.