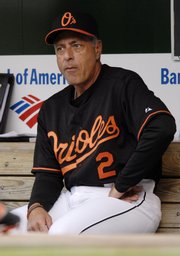 Baltimore — Four men have tried. No one has succeeded.
Is anyone out there capable of having a winning season as manager of the Baltimore Orioles?
Sam Perlozzo was fired by the Orioles on Monday, the result of his inability to bring last-place Baltimore out of a lengthy funk culminated by an eight-game losing streak.
"We felt Sam was prepared, we felt the club was prepared to do battle every night," executive vice president Mike Flanagan said in a news conference. "For whatever reason, it just wasn't working."
Bullpen coach Dave Trembley will be the interim manager when the Orioles begin a six-game trip in San Diego today. One of the leading candidates to fill the position on a full-time basis is Joe Girardi, voted NL Manager of the Year in 2006 with the Florida Marlins after he was fired in a dispute with ownership.
On another front, the Orioles are negotiating with former Chicago Cubs president Andy MacPhail about becoming chief operating officer, a job left vacant since Joe Foss resigned earlier this year.
Since Davey Johnson guided the Orioles to a first-place finish in 1997, no one has been able to win in Baltimore. Ray Miller, Mike Hargrove, Lee Mazzilli and Perlozzo all failed, and unless the Orioles pull off a surprising turnaround, the team's franchise-record run of losing seasons will reach 10 in 2007.
This was supposed to be the year when Baltimore finally made some noise in the AL East. The team spent $42 million to overhaul the bullpen, signed free agent hitters Aubrey Huff and Jay Payton, and added Jaret Wright and Steve Trachsel to the rotation.
The additions did not provide the desired results.
Danys Baez, who signed a $19 million, three-year contract, lost his job as setup man and was 0-4 with a 6.52 ERA before going on the 15-day disabled list Saturday. Orioles relievers were 0-5 with a 6.00 ERA during the homestand.
Huff and Payton have been adequate, but the offense is batting .260 with a mere 50 homers in 69 games.
Wright was removed from the rotation in April with shoulder stiffness and could be lost for the year, and left-hander Adam Loewen had season-ending elbow surgery last week.
For two months, the Orioles performed beyond expectations. Baltimore was 27-27 and in second place May 31 before losing 13 of 15 in June, including the last eight games of a 1-8 homestand that ended Sunday.
Baltimore's 29-40 record is the fifth-worst in the major leagues. The Orioles started the day trailing first-place Boston by 151â2 games in the AL East.
Copyright 2018 The Associated Press. All rights reserved. This material may not be published, broadcast, rewritten or redistributed. We strive to uphold our values for every story published.