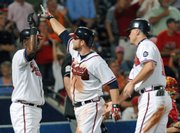 Braves 9, Red Sox 4
Atlanta - Brian McCann was in a slump. He knew where to turn.
One night after getting some much-needed hitting advice from his dad, the Atlanta catcher homered and drove in four runs off Curt Schilling to lead the Braves past the Red Sox on Monday.
Schilling never got up to speed, enduring his first strikeout-free start since 1993 and his second straight poor outing since nearly pitching a no-hitter at Oakland.
McCann was coming off a 3-for-22 road trip when the Braves returned home Sunday night. He called his father, who runs a batting complex in suburban Atlanta, and went by to get some after-hours pointers.
"Things were snowballing," said McCann, who had been 26-for-116 (.224) since injuring his left ring finger. "I needed to go back to where it all started."
His father had noticed a tiny flaw in McCann's swing. They watched film and talked about what he needed to do to fix it. It didn't take long for the young catcher to put the advice to good use.
"It was the first time in a long time that it was just me and him," McCann said. "I needed it."
Mets 8, Twins 1
New York - John Maine took a three-hit shutout into the eighth inning to earn his second win in eight starts.
Indians 10, Phillies 1
Cleveland - Cliff Lee beat another NL team, and Kelly Shoppach hit a three-run homer off Cole Hamels to lead Cleveland to a rout of Philadelphia. Lee (4-4), injured and inconsistent most of this season, improved to 10-1 in interleague play.
Tigers 9, Nationals 8
Washington - Carlos Guillen and Marcus Thames homered, and Detroit scored six times in the fifth and held on to beat Washington.
White Sox 10, Marlins 6
Chicago - Jim Thome added to his career interleague home run lead with a three-run shot, and the struggling White Sox matched their season high for runs in a victory over Florida.
Devil Rays 10, Diamondbacks 2
Phoenix - Brendan Harris fell a double shy of the cycle, and Jason Hammel earned his first career win as Tampa Bay defeated Arizona.
Athletics 6, Reds 1
Oakland, Calif. - Joe Blanton struck out five and didn't walk a batter to win for the third time in four starts, and Mark Ellis' three-run homer highlighted Oakland's victory over Cincinnati. Eric Chavez hit a sacrifice fly, and Nick Swisher had three singles and an RBI groundout for the Athletics, who improved their regular-season mark against the Reds to 7-0.
Angels 10, Astros 9
Anaheim, Calif. - Chone Figgins had six hits, including a game-winning RBI triple in the ninth inning.
Figgins finished 6-for-6 with a double and four singles to go with his tiebreaking triple. He drove in three runs and tied Garret Anderson's 1996 franchise record for hits in a game.
Copyright 2018 The Associated Press. All rights reserved. This material may not be published, broadcast, rewritten or redistributed. We strive to uphold our values for every story published.