Chicago — Michael Barrett pondered the question: Is there any other relationship in sports that combines the delicate balance, the mutual support and the combustible potential of baseball's pitcher and catcher?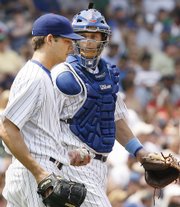 Quarterback-center, perhaps? Doubles tennis? Pairs skating?
"Golfer-caddie," Barrett said with some certainty. "The pitcher is the most important person. He's the guy who everybody's watching. I'm the caddie. I just make suggestions."
Of course, you rarely see a golfer haul off and punch his caddie, but that doesn't mean some haven't considered it.
Mother, father, psychologist, wet nurse, sometimes annoying brother, the catcher embodies all those roles and more, while the pitcher can be portrayed as anything from temperamental artist to corporate CEO. Together they form perhaps the most delicate relationship in sports.
And in Chicago, at least, the most controversial.
The Cubs alone have experienced the gamut during the last two-plus weeks: fights, breakups, reconciliation and now, it seems, a renewed bonding. The pitcher-catcher connection is ever-changing, no better example than the one offered by Carlos Zambrano when he talked about his on-field relationship with Barrett.
"It's funny," Zambrano said last week, reflecting on their well-documented dugout and clubhouse brawl of two weeks ago, "because three starts before the fight, I was in trouble and Michael came out to the mound and started to sing Latin music. He sang this song, 'uhohohoh, chacaroom, chacaroom, chacaroom.' I was laughing on the mound. That's the stuff that gives me a breather and helped me think better about the game."
A spontaneous move or well-orchestrated? A little bit of both, actually.
"One of the things I've always done with Carlos and all the Spanish-speaking players is I've tried to speak Spanish with them to show them I have respect for their culture," Barrett said. Though, truth be told, his singing was not decipherable in any language.
"In Zambrano's case, we had joked around and laughed in the dugout about a song being played earlier in New York," Barrett recalled. "So when he got into a little situation, I tried a little bit of everything. I tried to relax him and started singing to him in Spanish. He thought it was funny, and it relaxed him. And more important, it got him out of the inning."
Dynamic depends on age
Obviously, none of this prevented six stitches and a black eye for Barrett courtesy of Zambrano slightly more than a week later. Just as no one could predict the tailspin Barrett has endured with uncharacteristic mistakes on the field, leading to an extended stay on the bench, a new role for the recently promoted Koyie Hill and now, it seems, his teammates rallying behind him.
"I think Michael leads the league in trips to the mound," Will Ohman joked.
But at the center of it all is a pitcher-catcher dynamic that Rich Hill says is defined by a number of things.
"The dynamic is different depending on age," said Hill, 27, in his second year in the Cubs' rotation. "If you have a veteran guy back there and you're a rookie or a young guy in the game, you may know what you want to do against that hitter for a game plan, but a veteran catcher may be able to read into a few more things, even during that at-bat. He might see where the hitter's feet are placed, he might see him moving up in the box . . . (things) the pitcher might not pick up."
But a young pitcher, Hill said, might be inclined to discard that experience or advice and put undue pressure on himself.
"No one person wins or loses a game, but that's tough to decipher sometimes," he said.
Hill was speaking last week, the day after cameras captured him and Barrett engaged in an animated discussion in the dugout following a rough couple of innings in which he balked home a run, gave up a home run and allowed a crucial hit by Seattle pitcher Jarrod Washburn - an American League pitcher who rarely bats - on an ill-advised hanging slider.
"You want to vent sometimes," Hill said. "You get upset about a pitch, you wish you made a better pitch or you wish you didn't walk that guy on a pitch that might have not been thrown.
"It's on you as a pitcher. It has nothing to do with the catcher and what pitch is called. It has everything to do with the pitcher."
Barrett, a nine-year major-league veteran at 30, knows better.
"One of the things I'm working on and one of the things I'm a big believer in is to help the pitcher understand that he's not the only one out there, that there are nine guys on the field, that nobody is singling him out," he said.
"But pitchers face so much pressure. They're the center of attention. So many things can happen to them that don't happen to anyone else on the field. They have a bad game, and they're pulled out in the third inning. We have a bad game, we can continue to play nine innings. It's difficult at times for a pitcher to work through that feeling that they're all alone on the mound."
'A glorified suggestion box'
Cubs pitching coach Larry Rothschild wishes his pitchers would turn that attitude into a little more forcefulness.
"Years ago it was different," he said. "In today's world, for whatever reason, pitchers don't shake off catchers a whole lot. I like to see a pitcher who has a good enough understanding and feeling for the game that he knows what pitches he wants to throw in which situations ... that no matter what the catcher puts down, it doesn't mean anything to you because you know what you want to do.
"A lot of the game-calling is put on the catcher, but the pitcher has to take more responsibility."
Ted Lilly, in his eighth big-league season at 31, said he feels more comfortable calling his own pitches.
"Mark DeRosa says a catcher is a glorified suggestion box," Lilly said. "I don't know if that's exactly the case. But being a pitcher, I feel it's my responsibility to make pitches.
"Sometimes when you come in the dugout after the catcher put down a certain pitch and the pitcher threw it and gave up a big hit, then there's going to be a tendency to second-guess the catcher, but I don't entirely understand that. I've seen instances when a catcher puts down a certain sign in a big situation and the hitter hits a rocket right at somebody and it doubles him off and you get out of the inning and nobody says anything."
Even caddies like to be trusted.
"If a guy varies from the game plan over and over and over and his strengths become the team's weaknesses, they aren't helping the team win," Barrett said. "I do my job behind home plate by doing what's appropriate and helping the team win.
"There have been games with more than 150 pitches where I can remember four pitches where I made the wrong decision and something not good happened. But things tend to get magnified when things don't go well."
Uncharging the battery
For catcher Henry Blanco, currently on the disabled list, maintaining this rather delicate balance is simple.
"The pitcher is boss," Blanco said. "That's the attitude, and I'm OK with that, and Michael is OK with it. We have a job to do, and that's trying to get a guy through nine innings and get a win. But the most important thing is to have respect for each other."
For a while, that was the last word anyone would use to describe the relationship between Cubs pitchers and Barrett. But Rothschild said the perception is misleading.
"The two situations that have been on camera (Barrett vs. Zambrano and Barrett vs. Hill) have been the only two situations that have happened," he said, "and it's probably happened all through baseball this year.
"But we're a little more public and a little more obvious, a little closer quarters than most teams. The clubhouse is small, the press is right there with you, there are not a lot of rooms off the clubhouse for players to go to, so it's a different situation.
"In any event, you don't want to see it happen."
Rothschild is an equal partner in the pitcher-catcher dynamic, Barrett said.
"So much goes into how to pitch a hitter," said Barrett. "This is where the pitching coach comes in, and I always leave it up to him because at the end of the year, if the pitchers didn't do their job, it's the pitching coach who gets fired, not me. I'll move on and play somewhere else, but ultimately it's the pitching coach who suffers."
The pitching coach is also less likely to take a swing at you.
"One of the things Greg Maddux taught me is to be the pitcher's friend first," Barrett said. "By doing that, then you gain more trust. I work really hard to do that."
Copyright 2018 The Lawrence Journal-World. All rights reserved. This material may not be published, broadcast, rewritten or redistributed. We strive to uphold our values for every story published.