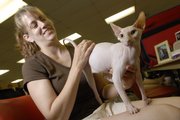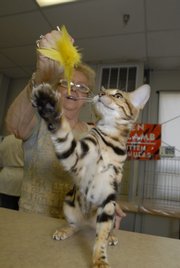 Lavona Kuhn placed her cat into a cage for judging, then joined her ever-so-patient husband, Jim Kuhn, who waited nearby.
The couple, from Burlington, breed dogs and cats, which they take to competitions around the country.
"I get to lose a day of my life," he said sarcastically. "I'm a dog guy. My wife raises cats."
"That ought to tell you how our lives have been for the past 32 years," responded his wife.
"This is how we're celebrating our (wedding) anniversary," Jim Kuhn said.
Their cat, Scooter, joined 111 other felines from the United States and Canada on Saturday for the annual International Cat Show sponsored by Kansas City Midwest Cat Club at the Douglas County 4-H Fairgrounds, 2120 Harper St.
Judge Carol Jordan, of Minnetonka, Minn., took Scooter out of the cage. The 10-month-old blue-silver Maine coon cat stretched her claws, seemingly scared about what was about to happen. Jordan stroked Scooter's shiny coat, set her down on a table, gave her a good look, then placed her back in the cage.
"She likes her, you can tell she likes her," Lavona Kuhn said of how Jordan assessed Scooter.
Each cat went before four licensed judges. The cats and kittens that place at the event receive points for the yearlong American Cat Fanciers Association exhibition circuit.
Maine coon cats were among several rare breeds in the show.
Corilee Boer, of Alvord, Iowa, raises sphynx cats, which have large ears and no fur.
"They call them part dog, part cat, part monkey," she said.
One of the five cats she entered lost to Freddie, a 7-month-old Manx kitten, in one round of the competition.
"This is my best short-haired kitten today," said Theresa Kempton, a judge from St. Petersburg, Fla., after describing how Freddie's round shape influenced her decision.
"When you get best, it's just a rush," said Theresa Buehler, Freddie's owner, of Alleman, Iowa. "That's what you really want."
The cats will see four more judges today for a second day of competition.
Admission to the show is $5 for adults and $4 for children and seniors.
"The fun just continues," Jim Kuhn said.
Copyright 2018 The Lawrence Journal-World. All rights reserved. This material may not be published, broadcast, rewritten or redistributed. We strive to uphold our values for every story published.