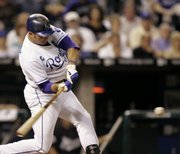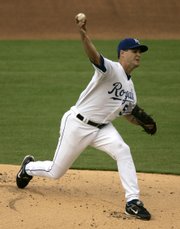 Kansas City, Mo. — Mike Sweeney didn't get mad, and he didn't get even. He got a three-run double.
After the Florida Marlins walked hot-hitting Mark Teahen to load the bases and pitch to him, Kansas City's veteran designated hitter lashed Sergio Mitre's sinker down the left-field line and the Royals rolled to a 6-2 victory Friday night.
"I figured Mitre was going to go with a sinker and try to get a ground ball and he did exactly that," Sweeney said. "They had to do it. It made sense. Teahen's been swinging the bat great, probably the best hitter in our lineup right now."
Gil Meche (4-6), who had lost five straight starts despite a 3.16 ERA, went eight innings for his first win since May 3. He gave up six hits, walked one, struck out three, and gave up Miguel Olivo's fifth home run leading off the third.
"It took me about three innings to get into any kind of rhythm," Meche said. "Sweeney came through big."
Mitre (2-3), who hadn't allowed an earned run in 23 2-3 innings coming in, worked 6 1-3 innings and saw his ERA climb from 1.59 - No. 2 in the major leagues - to 2.29. He was charged with six runs on 12 hits, with one walk and one strikeout in his first loss since April 11.
He was relieved by Renyel Pinto after Sweeney lashed his bases-loaded double down the left-field line and put the Royals on the road to their sixth win in nine games. Kansas City is 7-3 in interleague play.
Florida manager Fredi Gonzalez didn't feel like second-guessing his strategy of walking Teahen, who had two triples and five RBIs the night before and was 2-for-3 against Mitre.
"Two feet one way and we turn a double play and we have a 3-1 ballgame," he said. "But I thought (Mitre) pitched well."
Olivo's RBI single off David Riske in the ninth scored Miguel Cabrera. Octavio Dotel entered with two on and got Aaron Boone to fly out and Joe Borchard swinging for his fourth save in four chances.
Teahen's RBI single scored Tony Pena Jr. with two out in the third, the first earned run Mitre had allowed since the first inning of his start at Tampa Bay on May 20. He had not allowed a run of any kind in 11 1-3 consecutive innings.
Mitre had strained his right hamstring on May 30, and was lifted after five shutout innings in his next start for precautionary reasons. In this, his first start since then, he halted his delivery motion in an awkward movement while attempting to throw to Pena in the fifth and stepped off the mound.
He stayed in the game after visiting with Gonzalez, but five of the next seven batters reached base, one on shortstop Hanley Ramirez's error on the ball hit by Pena.
But Mitre said he just held onto the ball because it was coming out of his hand too quickly.
"I felt fine. The ball was up a little today," he said. "I mean, at times I was getting good sink that I usually get and times I wasn't. I left the ball up a little bit. I usually don't give up that many line drives to the outfield."
Teahen led off the sixth with a single and went to third on Alex Gordon's double before Emil Brown broke a 1-1 tie with a two-run double into the left-field corner.
Pena singled leading off the seventh and went to second when David DeJesus' potential double-play grounder glanced off the outstretched glove of Ramirez for a single. With one out, Teahen was walked deliberately to set up Sweeney, who couldn't remember anyone walking the hitter ahead of him to load the bases.
"I'm more double-play prone than Teahen is now," he said. "They made the right move. As a player who's been around a long time, you tend to take it personal. You've got to get in there and not let your emotions get hold of you."
Notes: RHP Josh Johnson rejoined the Marlins Friday after being out all year with a problem in his pitching elbow and will start on Monday against the Chicago White Sox. Gonzalez said Johnson would be limited to about 90 pitches. ... 2B Mark Grudzielanek underwent knee surgery to repair cartilage damage on Friday and the Royals expect him back in about a month. ... KC purchased the contract of SS Derek Wathan from the Long Island Ducks. Wathan, 30, is the son of former Royals catcher and manager John Wathan.
Copyright 2018 The Associated Press. All rights reserved. This material may not be published, broadcast, rewritten or redistributed. We strive to uphold our values for every story published.