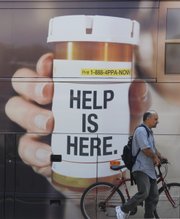 "Help is on the way" was the message the Partnership for Prescription Assistance wanted to send Friday in Lawrence during its nationwide tour.
About a dozen people waited for two hours in the morning outside the Lawrence Public Library for the program's bus, which is on its second visit to Lawrence.
The program helps low-income, uninsured or underinsured people gain access to more than 475 patient prescription assistance programs in America.
"What I love about this most is that I see smiles come off the bus," said Jeff Gilbert, partnership spokesman.
The program has been around since April 2005, and so far has helped 1,015 people from Lawrence. Altogether, the partnership has helped more than 40,000 people in Kansas. The group made a stop in Greensburg earlier this week, and was on its way to Leavenworth after departing Lawrence.
"It's all about getting people on the bus, because it's a place to learn and apply for the programs," Gilbert said.
Gilbert said applicants should bring a list of their medications plus income and insurance information when they register.
More ways to get help
The Partnership for Prescription Assistance also offers help at (888) 477-2669 or online at www.pparx.org.
The Web site and phone operators can provide information on more than the 10,000 free clinics available nationwide.
Copyright 2018 The Lawrence Journal-World. All rights reserved. This material may not be published, broadcast, rewritten or redistributed. We strive to uphold our values for every story published.