Oakmont, Pa. — Phil Mickelson looked more like a bowler than a three-time major champion, adjusting the black brace on his left wrist as he stared down the first fairway, an alley lined not by gutters but the gnarly, ankle-deep rough of Oakmont Country Club.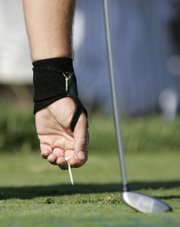 It was a gentle swing and a favorable result, right down the middle.
He played only nine holes Tuesday, but it was the first time he had played golf since he withdrew May 31 after 11 holes of the Memorial with an inflamed left wrist. He had hoped to play without pain at the U.S. Open, but he will settle for playing.
"I should be able to have it be manageable as long as I don't aggravate it," Mickelson said. "Or hit it in the rough."
Talk about a miracle cure.
Mickelson's inability to keep the ball in the short grass is the reason he comes to this major with as much inflammation in his psyche as his left wrist. A year ago at Winged Foot, he was one par away from an elusive U.S. Open title until hitting a tee shot off a corporate tent, against a tree and into a bunker, making double bogey on the 18th hole to finish one shot behind Geoff Ogilvy.
Having already tied the U.S. Open record for most second-place finishes - four - Mickelson showed up at Oakmont two weeks ago for his marathon practice sessions, where he sticks tiny flags on the putting surface and slowly works his way around the green chipping out of the rough from every conceivable angle. He believes that's how he injured his wrist.
Now, his best hope this week might be staying out of the thick grass.
"I think it's important to drive the ball very well here, obviously, and that's going to be the biggest challenge for me," he said. "But this should not be a long-term problem if I don't aggravate the inflammation. And this, unfortunately, isn't the best week for that, given my driving history."
It's not a good week for anyone not at full strength.
Reputed to be the toughest golf course in the country, Oakmont offers a complete test. The course is not the longest, even if it has the longest par 5 (667 yards) and longest par 3 (288 yards) in major championship history. The greens are so fast the U.S. Open staff slows them down to keep it fair.
"Generally, if you're missing one facet of your game, more than likely you're not going to win the championship," two-time champion Tiger Woods said. "You have to have everything going."
That presumably means all body parts working at full capacity. And while the pain is in Mickelson's wrist, the key might be his head.
"He's a power player," said Ernie Els, another two-time U.S. Open champion who has played with a bad wrist, back and is just now recovering from surgery to repair knee ligaments. "You go at it aggressively, you have to just somehow try and put the pain in the back of your head if you can."
Copyright 2018 The Associated Press. All rights reserved. This material may not be published, broadcast, rewritten or redistributed. We strive to uphold our values for every story published.