Rain showers delayed Sunday's action at the Lawrence Open tennis tournament, but a few sprinkles in the afternoon couldn't douse a fiery mixed doubles match to close out the tournament.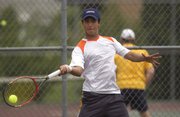 A pair of Lawrence High alumni, Sydney Lartigue and Tommy S. Johnson, conquered the different elements they faced to beat Baker University's Michael Angarita and Jamie Lawrenz in straight sets, 7-5, 6-4.
"This is Tommy and I's first time playing mixed doubles together, and right from the beginning we had great chemistry," Lartigue said. "So I think that helped because even when we were down we were still having a great time. So being good friends helps."
Lartigue and Johnson also had to worry about shifting their games to accomodate different courts. They started the day with a semifinals match at First Serve Tennis Center in the morning before heading to the outdoor courts of Lawrence Tennis Center for the finals.
"It wasn't too bad actually because usually when I'm warmed up I can really move my feet out here," Johnson said about the transition to playing outside. "Obviously playing inside is a lot easier, and it doesn't make you tired as much because you don't have to move your feet a lot. But when coming outside, I focused on moving my feet a lot more."
Although Lartigue was thrilled to be playing on her high school courts in front of the hometown crowd, Johnson said he was a little on edge early in the match.
"It actually made me insanely nervous in the first set," Johnson said. "But after we broke them in the first that actually took off a lot of pressure. We got down a little bit, but I heard some people saying, 'Wow. That's a good doubles.' And just played more freely."
That nervousness may have played into their early 4-1 deficit in the first set against Lawrenz and Angarita - who also were paired together for the first time.
Lartigue and Johnson had the opportunity to watch their opponents in other events during the tournament.
Lartigue actually faced Lawrenz on Saturday in the semifinals of the women's open doubles - which Lawrenz and teammate Helena Malinakova won, 3-6, 7-5, 1-0(8).
After dropping out of the men's open singles draw, Johnson had the chance to observe Angarita's title run through the bracket.
"I picked up from watching Michael in his single matches, he seemed that when he was at the net he had solid volleys, but when you hit it low he just hit it up," Johnson said. "So we just continued attacking and hitting it low and it really worked."
Although Angarita was disappointed with the mixed doubles loss, he still was enthusiastic about his 6-3, 3-6, 6-3 win in singles final over Jim Stoner - who had won the division on multiple occasions.
"Jim was really tough competition," said Angarita, who had to wait through an hour rain delay before the singles finals match. "I lose 6-3 in the second set, and at that point I was concerned because he was playing better and better. So I guess I just focused a little bit more and started playing better to win the third set 6-3."
Lawrenz also came away from the tournament with a title as a late fill-in with Malinakova in the women's open doubles. The pair beat Mary Frances Ellis and Marci Toalson, 6-2, 6-2, in the finals.
"That was a lot of fun," said Lawrenz, a former Baldwin High student. "I was happy to be able to fill-in, and we did really well. ... I learned a lot from Helena, actually. Hopefully I can use that coming up in the fall at Baker."
The doubles crown was the second championship Malinakova won during the weekend.
Malinakova was one of just three entrants in the women's open singles, which she won by defeating Heather Ryan, 6-2, 6-2, and Michelle Barger, 6-1, 6-0, in a round-robin format.
"I just wanted to play. Last year, I was injured and couldn't play, so I'm just really enjoying the chance to play hard this year," said Malinakova, a tenured associate professor of chemistry at Kansas University. "So I didn't really plan on anything. ... But I would like to see more ladies singles players on the courts. Maybe next year."
Copyright 2018 The Lawrence Journal-World. All rights reserved. This material may not be published, broadcast, rewritten or redistributed. We strive to uphold our values for every story published.