Past Event
featuring Widespread Panic, Medeski Martin & Wood, Yonder Mountain String Band, and more TBA
When: Sunday, June 10, 2007, time TBA
Where: Clinton State Park, Clinton Lake, Lawrence
Cost: $119 - $435
-->
-->
Photo Gallery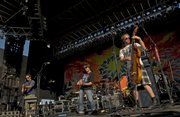 Wakarusa Music Festival, Day 3
Carpeting. Covered tables. Three-seater lounges. Cold-water buckets to dunk the feet.
"What am I missing?" Stacy Peters said Saturday, standing near her shady 11-by-20-foot "living room" in the camping area of the Wakarusa Music and Camping Festival. "A personal shuttle - I'd be OK with that."
For four days, the festival is a home away from home for thousands of music lovers. And many of the revelers take their "homes" very seriously.
Their sardined rows of tarps, tents and automobiles hover around the festival's stage areas, forming a small, temporary city.
Some festivalgoers bring a particular zeal to homemaking.
They set up cozy gathering spaces. They decorate with flags and blankets. They pen makeshift signs.
And they admire their festival "homes."
"You can sleep four people in there," Mark Hoerl said on Saturday, sitting in the shade and gesturing to a nearby Volkswagen bus. "There's a sink in there. There's running water, a refrigerator, a stove."
The Smithville, Mo., resident and his bus were part of a small block of Volkswagens situated together in one field. Open vehicle doors revealed kitchens ready for cooking with beds ready for naptime.
"They're the Swiss Army knife of vehicles," Hoerl said of his beloved vehicle.
To Tim Dierks and Jenn Gronoski of Waterloo, Iowa, their 1966 Volkswagen Dormobile is more than a mode of transportation.
"Everything we need is in it," Gronoski said. "It's home. I look forward to seeing it when I'm walking back from a show."
Leawood resident Kyle Teahan's tent stood tall in its neighborhood, with bold stripes of red, white and blue.
"You can find it if you're lost," he said. "It's always lit up at night."
The area included three grills and was surrounded by tiki torches, in three different sizes.
"Anything we could possibly need," he said.
Copyright 2018 The Lawrence Journal-World. All rights reserved. This material may not be published, broadcast, rewritten or redistributed. We strive to uphold our values for every story published.