San Antonio — Tony Parker, Tony Soprano. One's going to get hacked, the other might get whacked.
At roughly the same time the Cleveland Cavaliers and San Antonio Spurs take the floor for Game 2 of the NBA finals on Sunday night, the final episode of "The Sopranos," HBO's series about a dysfunctional New Jersey mafia family, will air.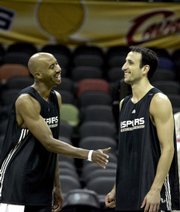 So what's a TV viewer to do? Lobs or mobs?
"I'll be more focused on Tony Parker," Cavaliers star LeBron James said, "even though I am a fan of Tony Soprano."
The Spurs have a wise guy of their own: Bruce Bowen. He does their dirty work.
Arguably the league's best perimeter defender - and the dirtiest in many NBA circles - Bowen's assignment in this series is to cover James, who is 13 years younger, an inch taller and 40 pounds heavier than his counterpart.
But in the opener, Bowen never let James out of his sight or very far from his reach. He held James without a field goal in the first half and caused him to have one of the worst games of his young playoff career.
Unlike other defenders, who overplay Cleveland's All-Star to the right, thus forcing him to drive with his weaker hand, Bowen stayed directly in front of James. When James drove to the basket, Bowen was in the passenger seat, and when James went up for a shot, guess who had a hand in his face.
Bowen didn't knee James in the groin as he did to Phoenix's Steve Nash earlier in the playoffs, and he didn't slide underneath him as he did to Suns forward Amare Stoudemire, who accused Bowen of kicking him during the Western Conference semifinals.
Bowen simply played hard-nosed, belly-to-belly defense - the way he learned as a kid.
"I came up old school," Bowen said, explaining his defensive prowess. "If you didn't play any 'D,' you didn't get on the floor."
Cavaliers coach Mike Brown is very familiar with Bowen's tactics. While he was as assistant with San Antonio, Brown came to appreciate Bowen's ability to frustrate and disrupt scorers with a variety of tricks.
But in Brown's mind, Bowen has other intangibles that make him a defensive standout.
"His effort, his want, his desire is off the charts," Brown said. "He understands that that's what he brings to the table, and he just takes it to another level. When I was coaching here, our guys used to hate when he defended them in practice because he didn't let up.
"You know when you're on the playground and you got a kid who's in your face, it's like, 'Dude, get away from me.' Bruce does that for 48 minutes."
Bowen has finished second in voting for Defensive Player of the Year the past three seasons, a fact that he reminded the media of earlier this week. But his reputation as a stopper has also brought criticism that he's a bad, bad guy.
"I don't take pride in being a villain," Bowen said.
A defensive devil on the floor, he's almost angelic off it.
Bowen is the Spurs' most active player in the San Antonio community, sometimes appearing at two or three charitable events in a week. On Friday, he helped dedicate a local reading and learning center.
He has a foundation that aids underprivileged children, and when the father of two (his wife, Yardley, had the couple's second child Saturday) retires from playing, he wants to be a high school teacher.
James got to know Bowen better last summer when they played together on the U.S. national team.
"It's definitely family first, basketball second with him," James said. "I really respect Bruce."
Bowen doesn't always hear that sort of praise. He's been vilified for so long that he has learned not to let the name-calling bother him.
"You don't like to be called dirty," he said. "But people have their opinions. As long as my friends and family understand what I'm about, that's all that matters."
Copyright 2018 The Associated Press. All rights reserved. This material may not be published, broadcast, rewritten or redistributed. We strive to uphold our values for every story published.