Atlanta — The Atlanta Braves' offense broke out of its June slump in time to rescue a suddenly depleted starting rotation.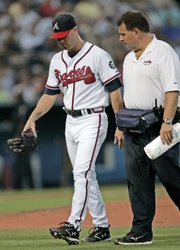 Peter Moylan pitched three scoreless innings in relief of injured starter Tim Hudson, and the Braves ended a four-game losing streak with a 9-5 victory over the Chicago Cubs on Saturday night.
Hudson left the game in the third inning after he was hit on his left leg by Jacque Jones' sharply hit grounder. The right-hander limped slightly as he walked off the field with a bruised leg. X-rays were negative.
Hudson's leg was swollen, but with the help of an extra off day this week, he said he doesn't expect to miss a start.
"If it's not broken, I'll be fine," Hudson said, before adding: "It got stiff really quick."
The loss of Hudson came after the Braves placed starter Lance Cormier on the 15-day disabled list Saturday with a tired arm. Also Saturday, John Smoltz said he'll skip his scheduled start Sunday against the Cubs as he recovers from inflammation in his right shoulder.
Moylan was the first of five relievers who combined for seven scoreless innings.
"All goose eggs for the bullpen - that was a lifesaver tonight," Braves manager Bobby Cox said.
Edgar Renteria homered and drove in four runs, and Andruw Jones added a two-run homer for the Braves, who had not scored as many runs since a 9-3 win over Milwaukee on May 30.
Copyright 2018 The Associated Press. All rights reserved. This material may not be published, broadcast, rewritten or redistributed. We strive to uphold our values for every story published.