Many of us know that a 3-D model of the Earth, Moon, Sun and planets used to explain the way these bodies work is called a planetarium. But few are familiar with a tellurian (tellurium), a mechanical model that moves the Sun, Earth and Moon to show how seasons change and why there are eclipses. Scientists and teachers can move a tellurian's gears, chains and pulleys to explain how the Earth spins once a day and revolves around the Sun once a year, while the Moon revolves around the Earth once a month. Antique planetariums and tellurians are rare and expensive. One very elaborate set of models, including a planetarium, tellurium and globe, was made by Holbrook & Co. of Berea, Ohio. The set's globe has labeled continents, mountains, deserts and rivers. The out-of-date label that calls Alaska "Russian America" is a clue that the globe was made before 1867, when Alaska was purchased by the United States. The solar-system models in the Holbrook set are decorative, but they're also important examples of 19th-century science. And they're so well-made that they're almost works of art.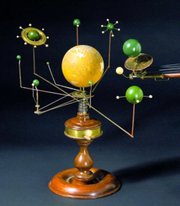 Current prices
Current prices are recorded from antiques shows, flea markets, sales and auctions throughout the United States. Prices vary in different locations because of local economic conditions.¢ Kodak AG single-lens camera, Nagel-Werke, c. 1932, 127 roll film, leather case, $60.¢ "Bewitched" Tabitha paper-doll set, die-cut cardboard doll, costumes, accessory sheet, wand for pressing outfits on, Magic Wand Corp., 1966, uncut, $175.¢ Pluto the Pup toy, jointed, wood, green collar, yellow felt ears, Geo. Borgfeldt & Co., 1930s, 5 3/4 inches, $175.¢ Bliss-Whitney Reed doll highchair, lithographed paper on wood, turned arms, 27 inches, $210.¢ Victorian photograph album, 25 double-sided pages, photos of Napoleon III, Pope Pius IX, Queen Victoria and Prince Albert, c. 1870, 6-by-9 inches, $260.¢ Cast-iron Artillery bank, soldier in red tunic and blue trousers, J. & E. Stevens, c. 1882, 8 inches, $275.¢ Howdy Doody marionette, composition head, hands and boots, Peter Puppet, 1950s, 16 inches, $325.¢ Federal painted teacher's chair, curved pierced ladder back, sloping left arm, palette-shaped writing surface, one drawer, shaped seat, spindle legs, 40 inches, $350.¢ Meriden Silver Co. bride's basket, silver-plated frame with twist handles, hummingbird and gadrooned base, pink and white cased glass inserts, marked, 13 1/2 inches, $460.¢ Loetz flower-form vase, Papillion pattern, 9 1/2 inches, $1,200.¢ Hooked rug, wool and cotton, ship flying American flag, inscription "Homeward Bound," beige ground with blue waves, American, 1925, 34-by-66 inches, $2,115.¢ Staffordshire Pearlware group, Courtship, young couple seated on bench, leafy branches behind bench, he holds engagement ring, puppy at feet, c. 1825, 8 inches, $2,400.
Q: My husband's grandmother left us a mahogany chair with a cane seat and back. She always called it a "Centennial chair." Is that a maker or a style?
A: It's not a maker, and it's not a distinct style, either. Most furniture experts say the term "Centennial furniture" developed around the time of the 1876 Centennial Exposition in Philadelphia, when Americans became enthralled with Colonial history and furniture styles. It does not directly relate to furniture displayed at the exposition. Because so many Americans wanted furniture in the Colonial style, furniture makers started turning out "Colonial Revival" furniture of all sorts, including Queen Anne, Chippendale, Sheraton, Hepplewhite and mixed styles. Some people have decided to call these late 19th-century Colonial Revival pieces - especially those that are well-made - Centennial furniture.
Q: Did McCoy ever make a Little Red Riding Hood cookie jar? I was told it did not.
A: McCoy pottery was made at the Nelson McCoy Pottery Co. in Roseville, Ohio. McCoy made cookie jars from the 1920s until 1990, when the factory closed, but it never made Little Red Riding Hood cookie jars. Many McCoy reproductions and fakes are on the market, and some of them are marked "McCoy." So if you have a Little Red Riding Hood cookie jar, it's not "the real McCoy."
Q: I just purchased a Henry Boker scale and would like some information about it. It has a brass scale chart, two iron rings and two hooks.
A: Your scale was made in Germany by Henry Boker sometime between the 1830s and 1880s. Originally, hunters and fur traders used it to weigh hides, but it was later used to weigh cotton bales and other products. The small hook can hold up to 40 pounds and the larger up to 360 pounds. A Boker scale can sell for $100 or more.
Q: I have a large brass belt buckle that reads on the back "Tiffany" and "Rare Stones." It pictures Barnum & Bailey's 1908 circus. I was told that four of these buckles were made by Tiffany for P.T. Barnum, and that he and his ringmasters wore them. Since Barnum died in 1891, the 1908 date raises a question.
A: You have one of the fake "Tiffany" belt buckles that were made in England and flooded the market in the 1960s and '70s. They were not even reproductions of originals. Instead, they were "concoctions" - totally new designs. Belts with large brass buckles were in style, and many of the buckles were bought to wear. A fraudulent book written around the same time by an imaginary author and published by a nonexistent company was filled with altered photos of the buckles. It described the line of Wells Fargo, American Express, Central & Union Pacific Railroad and Western Union Telegraph Co. buckles supposedly made by Tiffany. All of the buckles are now known to be fakes. Fake Ku Klux Klan, Mickey Mouse, Coca-Cola, Alcatraz and other buckles like your Barnum & Bailey buckle also were made. These fantasies became so popular they were copied, and cheaper versions sell in flea markets today for about $10 to $15. The older fakes sell for about $20 to $30. "There's a sucker born every minute" seems to be true when it comes to these buckles. The phrase is usually attributed to P.T. Barnum, but this, too, is fiction. He never said it.
Q: Should silver plate, sterling or linens be stored in plastic food-saver bags? Or will the bags damage the items? What about space-saver bags used to store clothing? Would it help to wrap the items first in a cotton sheet, then put them in the plastic?
A: Don't use food bags to store any valuables. If it's hot, the plastic can melt; if it's damp, mold can form inside the bags. Some good-quality space-saver bags can be used to store linens. Check the instructions on the bags' packaging. They usually are straightforward about what should be stored in the bags and whether or not they protect fabric from mold and mildew. For silver of any kind, use special boxes or bags to protect your investment. Some silver bags are also tarnish-retardant.
Tip: Never clean marble with vinegar or lemon juice. They will damage the marble.
The Kovels answer as many questions as possible through the column. By sending a letter with a question, you give full permission for use in the column or any other Kovel forum. Names and addresses will not be published. We cannot guarantee the return of any photograph, but if a stamped envelope is included, we will try. The volume of mail makes personal answers or appraisals impossible. Write to Kovels, (Lawrence Journal-World), King Features Syndicate, 300 W. 57th St., 15th Floor, New York, NY 10019.
Copyright 2018 The Lawrence Journal-World. All rights reserved. This material may not be published, broadcast, rewritten or redistributed. We strive to uphold our values for every story published.