Rome — President Bush, denounced by tens of thousands of anti-American protesters on the streets of Rome, defended his humanitarian record on Saturday to Pope Benedict XVI, who expressed concern about "the worrisome situation in Iraq."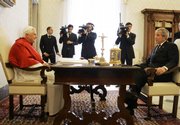 Bush also sought to shore up relations with Premier Romano Prodi, whose center-left government has been heavily critical of U.S. policies. While Prodi has withdrawn Italian forces from Iraq, Bush thanked him for Italy's leadership in supporting the fragile western-backed government in Lebanon and its commitment of 2,000 troops for NATO's mission in Afghanistan.
Relations with Italy are "pretty darn solid," Bush said.
Prodi agreed. "We basically agree on how the future of the world should look, should be," the Italian leader said.
The president went to the Vatican for his first meeting with the pope, who has lamented the "continual slaughter" in Iraq and concluded that "nothing positive comes from Iraq."
The pope asked Bush about his talks in Germany with Russian President Vladimir Putin at a time of deep strain between Moscow and Washington. "The dialogue with Putin was also good?" the pope asked.
"I'll tell you in a minute," Bush said, mindful of the presence of reporters and television cameras during the photo opportunity. They both laughed.
"I was talking to a very smart, loving man," Bush said later of his discussion with the pope. "I was in awe and it was a moving experience."
Highly unpopular in Italy and across Europe, the president made a point about U.S. efforts to fight disease and poverty in Africa. Bush recalled that he had asked Congress to double the commitment for fighting AIDS in Africa, from $15 billion to $30 billion.
Tens of thousands of anti-globalization and far-left activists marched peacefully through the capital's ancient center to protest Bush's visit. Thousands of police were deployed round the Colosseum, the downtown Piazza Venezia and other sites.
As the protests were concluding, riot police used tear gas on small groups who threw bottles and donned masks in defiance of a police order.
The president said the pope expressed concern that the Muslim majority in Iraq was intolerant of Christians. A Vatican statement said Bush, in talks with the pope and the Vatican's No. 2 official, Cardinal Tarcisio Bertone, discussed the "worrisome situation in Iraq" and the "critical conditions in which the Christian communities (in Iraq) are found," the statement said.
Copyright 2018 The Associated Press. All rights reserved. This material may not be published, broadcast, rewritten or redistributed. We strive to uphold our values for every story published.