Old is a bit of a harsh word to use when comparing Conrad Roberts and Chad Roesler to the other seven teams left in the Kansas Golf Association Four-Ball Championship.
They are more like seasoned veterans.
A pair of former Kansas University golfers, Roberts - a 2001 graduate - and Roesler (1995) are the only players remaining that weren't playing at the collegiate level last year.
"I've noticed a lot of different bags. There's people from Indiana here and Oklahoma, so I think this is becoming a very popular college tournament, and every year we get older, and they stay the same age," Roesler said after the pair won two matches - 5-and-4 in the first round, then 2-and-1 in the afternoon - on Thursday at Alvamar Golf Club. "We're the old guys in this, and that's OK. We can still play a little bit."
Having traveled out into the "real world" more than five years ago, the current Lawrence residents possibly are more excited than the other golfers about advancing to today's quarterfinals.
"I made a joke in our two hours in between our morning round and afternoon round that I wanted to win in the afternoon so I didn't have to go to work," said Roesler, who works for an insurance brokerage house in Topeka. "All the other kids here are playing golf tomorrow whether they win or lose. So it's nice."
After a relatively easy victory in the morning, Roberts and Roesler had some early struggles against Ryan Deutsch and John Robbins - a couple of Washburn golfers - in the second round.
The Ichabod duo won the first hole of the match, and the next 12 holes were halved. Finally, on the 14th, Deutsch and Robbins scored the only bogey of the day and squared the match.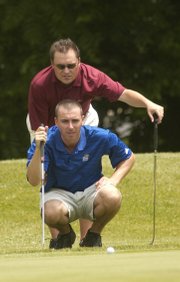 "Even though they were 1-up all that time, I'm sure if I was in their shoes I'd be trying to get 2-up or 3-up," said Roberts, business manager at the University Press of Kansas. "They were trying, but they just couldn't hit it close enough. They missed a lot of greens, chipped up and then made the clutch putt, whereas we were hitting it on the green in two and then making two-putts rather than a single putt."
Roberts and Roesler went on to make birdie-birdie on the 16th and 17th to claim the 2-and-1 win.
The former Jayhawks will face ninth-seeded Barrett Martens, a graduating senior at KU, and Kansas State graduating senior Jay Kramer.
The No. 1 and No. 9 seeds are two of just four remaining top-10 seeds heading into the quarterfinals. Defending champs Brandon Hermreck and Zechariah Potter, seeded No. 3, and their teammates from Wichita State, Ty Sanders and Cameron Bishop at No. 7, are the other top teams to survive.
Despite a hole-in-one by Rob Gleissner with a 6-iron on the 184-yard seventh hold, Hermreck and Potter were able to defeat Gleissner and his teammate Chris Gaunce, 2-and-1, to face Brett Iliff and Adam Blue.
Iliff and Blue, a UMKC tandem, took 19 holes to win in the first round before sitting through an hour delay to start of their second match due to lightning, but eventually came away with a more comfortable victory, 3-and-2.
"For us to be one of the top eight, we're lucky - very, very fortunate," Iliff said. "But we know Brandon and Zec are probably the team to beat coming into tomorrow. We know we'll have to play our best to have a chance."
Sanders and Bishop will face the lowest remaining seed in the tournament, the No. 31 seed of Spencer Christian and Ryan Linsner. The teams are familiar with each other, since Christian and Linsner play for Evansville in the Missouri Valley Conference.
"Honestly, we didn't even think we would make the cut," said Christian, who had to survive a six-team playoff to make the field of 32. "It's just like the NCAA, a high seed can knock out anybody. It's just whoever plays well right then."
The other quarterfinals match will pit KU golfers Walt Koelbel and Zach Pederson, the No. 12 seed, against a pair of Central Oklahoma teammates, Zach Cleland and Mitch Boles, at the No. 13 seed.
Copyright 2018 The Lawrence Journal-World. All rights reserved. This material may not be published, broadcast, rewritten or redistributed. We strive to uphold our values for every story published.