Heiligendamm, Germany — Group of Eight leaders including President Bush agreed Thursday to call for substantial global emissions reductions to fight global warming and cited a goal of a 50 percent cut by 2050.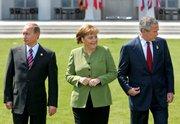 European leaders hailed the deal as progress in the wrangling between Europe and the United States over global warming, with the Europeans pushing mandatory cuts and the U.S. resisting.
German Chancellor Angela Merkel, who shepherded the deal as chairwoman of the G-8 summit in this seaside resort in northern Germany, called it "very great progress and an excellent result." With Bush resisting concrete cuts, it had appeared Merkel's summit would fall short of her goal of a substantial deal on climate change.
"We agree that we need reduction goals - and obligatory reduction goals," she said.
But the language of the declaration appeared to be well short of a full commitment. It called for the countries to "seriously consider" following the European Union, Japan and Canada in seeking to halve emissions by 2050.
Merkel, who has made climate change the centerpiece of Germany's G-8 leadership, had lobbied fellow leaders on the issue for months. The G-8 is Germany, the United States, Russia, Britain, Italy, France, Canada and Japan.
"No one can escape this political declaration; it is an enormous step forward," she told reporters.
But Annie Petsonk, a lawyer for the advocacy group Environmental Defense, said the summit hadn't agreed on a 50 percent cut - only on a call for all major emitters to seriously consider that option.
"Importantly, they have agreed to negotiate a new agreement under the UN Framework Convention - bound by the obligation to avert dangerous climate change," she said. "But it may be that the president is simply kicking the can down the road to the next administration to get the job done."
Petsonk said the key to getting an agreement in these new talks will be for the United States to impose a mandatory national cap on its own greenhouse gas emissions, without which other nations would be reluctant to join along. "All eyes are on Congress now. If America wants to lead, it's clear that Congress will have to do it," she said.
Missile defense defused
The meeting also produced an unexpected proposal from Putin, who said he would drop his opposition to the U.S. missile defense system if it made use of a Russian-leased radar station in Azerbaijan. Currently the plan is to put 10 interceptor missiles in Poland and a radar in the Czech Republic to guard against a potential future threat from Iran.
Bush did not mention Putin's proposal, saying only that Putin had made "some interesting suggestions."
The two agreed to continue discussing the issue during talks next month at the Bush family vacation home in Maine.
Copyright 2018 The Associated Press. All rights reserved. This material may not be published, broadcast, rewritten or redistributed. We strive to uphold our values for every story published.