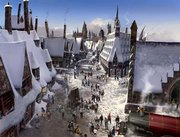 Movie opening earlier
Los Angeles - Good news for Harry Potter fans marking off the days before the release of the boy wizard's next movie.
"Harry Potter and the Order of the Phoenix," the fifth movie based on the best-selling books, will open in U.S. theaters July 11, two days earlier than previously scheduled.
Warner Bros., which is distributing the film, gave no explanation for the change.
The world premiere of the movie, directed by David Yates, will be held June 28 in Tokyo, followed by a London premiere July 3.
The seventh and final book in the series, "Harry Potter and the Deathly Hallows," is still scheduled for release July 21.
Orlando, Fla. — The tourism industry buzzed feverishly this week with the announcement that Universal Orlando secured the rights to build an attraction centered on the hugely popular Harry Potter character.
"Properly conceived and executed, this story line absolutely has the potential to be one of the all-time biggest hits in the theme-park industry," said Dennis Speigel, president of International Theme Park Services Inc. in Cincinnati.
Universal intends to spend between $230 million to $265 million to create the "The Wizarding World of Harry Potter" at Islands of Adventure along with a previously announced Simpsons attraction, according to a filing with the Securities and Exchange Commission.
This year alone, the expenditure is expected to reach between $75 million and $85 million, the filing said.
Speigel likened the Potter stories to the "timeless" and age barrier-breaking qualities of the "Wizard of Oz."
Indeed, Harry Potter is so hot, the title character in the series of books about a world of witches, wizards and the nonmagical humans, muggles, scores just four popularity points behind pop culture icon and new cross-town competition Mickey Mouse, according to market research.
Marketing executive Steven Levitt said Harry Potter carries big potential, according to his company's Q Scores, which measure how familiar audiences are with specific characters, brands or personalities as well as how many people rank the character as one of their "favorites."
The Harry Potter book series measures 39 and Mickey Mouse boasts a score of 43. Santa Claus trounces both at 56. Superman, the comic book version, scores at 26.
"Eight out of 10 people already know the Harry Potter character," said Levitt, president of Marketing Evaluations Inc. The Q Scores Co. "The way it's going to grow (among) people who aren't saying, 'it's one of my favorites' is a new iteration of Harry Potter - like a theme park attraction."
Universal's challenge will be to create an attraction that delivers on its promise to exceed Potter fans' expectations for authenticity to the stories.
The "Wizarding World" based on the phenomenon created by British author J.K. Rowling, who has sold more than 300 million books, is expected to be open in 2009. The four movies released so far have pulled in $3.5 billion.
Universal Chairman Tom Williams told the Orlando Sentinel that the Harry Potter attraction would be like "a theme park within a theme park" spanning about 20 acres of Islands of Adventures' 85 total acres.
"Warner Bros., J.K. Rowling, Universal: We're all completely committed," he said. "We're committed financially; we're committed intellectually to deliver a product that exceeds expectations."
The 10-year licensing deal between Universal City Development Partners and Warner Bros. Consumer Products Inc. was signed May 25 and includes an option for two five-year renewal periods.
The agreement also requires Universal to pay Warner Bros. licensing fees, merchandise royalties and other payments, though specifics were not disclosed.
Williams said that he was "still kind of pinching myself" over the deal. The pressure to build an attraction that is true to the Harry Potter brand, he said, will be intense, though the company is looking forward to creating the smells, sounds and texture of Hogwarts Castle and the Forbidden Forest.
"To have a chance to bring Harry Potter to life is right up our alley," he said.
Local tourism boosters are hoping the celebrity of the character will mean more visitors to Orlando.
"Harry Potter is printed in 63 languages; that shows you the power of the brand," said Gary Sain, president of the Orlando/Orange County Convention & Visitors Bureau. "If we can tap into that and create that interest to visit Orlando, that's superb."
Sain said he expected a large boost among international travelers, who have waned in recent years. The attraction also could give way to more repeat visitors who will return to Orlando to see what's new.
Copyright 2018 The Lawrence Journal-World. All rights reserved. This material may not be published, broadcast, rewritten or redistributed. We strive to uphold our values for every story published.