-->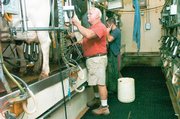 Tina Hernandez, a Lawrence mother of three, recently bought two gallons of Country Club Vitamin D milk for $3.29 each.
"It's ridiculous, just like gas," she said.
But as is the case with gasoline, she doesn't buy any less milk when prices climb.
"We have to keep up with what we normally use," she said. "We're used to what we drink, and you can't deprive your kids of milk. How often do you get kids volunteering to drink so much milk anyway?"
Depending on the brand and type, milk prices now range from $3.29 for skim to $3.79 for 2 percent. A gallon of milk cost less than $2 last spring.
And it's not just milk. All dairy products are more expensive now, including cheese and yogurt.
Costs going up
Several factors - ranging from weather in Australia to the U.S. Department of Agriculture's dairy storage - play a role in this volatile dairy market.
But the overriding reasons can be traced to supply and demand, dairy experts say. July is a low-supply month, and international markets are looking increasingly to the United States for dairy products.
This means dairy farmers are making more money, but their costs also have increased.
"I don't want you to think we're out here getting rich," said Randy Flory, a Lawrence dairy farmer who has been in the business for 34 years. "Our fuel prices went up, feed prices skyrocketed; we're not sitting out here wondering what to do with our money."
Flory, 52, who has 230 cows on his farm south of Lone Star Lake, said today's prices are the best prices he's ever seen.
Flory said he is paid for every 100 pounds of milk he provides. Right now, he's paid $20 for every 100 pounds, compared with $11 18 months ago.
"Six months from now, things might look a lot different," Flory said. "Things won't be so rosy."
And Eugene George, who has a dairy farm 5 miles south of Lawrence, said he is making about $1.80 for every gallon of milk his cows produce. That compares, he said, with $1.40 a gallon last year.
But Flory and George have seen rising production costs - costs farmers must pay before the cows are milked twice a day. And those have an effect on price.
Dairy cows eat a mixture of ground corn, soybeans and cottonseed. Mike Bodenhausen, assistant director for the Kansas Dairy Association, estimates corn prices are up 35 percent to 45 percent, and fuel prices are up about 10 percent.
Economic factors
Don Blayney, economist for USDA's animal and science research department, said there are two main reasons dairy farm prices are high now.
First, Blaney said, milk supply generally is low in the summer.
"All price pressure is coming from demand side," he said. "There are so many people consuming."
The second reason is pressure from abroad. International demand for dairy products is strong but main suppliers in New Zealand, Australia and Europe have suffered severe weather, he said.
Usually, those regions produce almost half of the world's dairy products, he said. So pressure is on the United States to export more dairy goods.
"Booming economies around the world are demanding more and more of the product, particularly China," Blaney said.
"In the U.S., consumption of dairy products is a mixed story," he said. "In most cases, consumption is either flat or declining. Fluid milk is coming down over time, but the consumption of cheese has gone up a lot."
And recent health trends also factor in, said Mike Brouk, a dairy economist at Kansas State University. Whey, condensed protein from dairy, is found in protein bars and shakes that are popular now.
"We went through a period here a few years back where dairy was bad for human nutrition," he said. "That turned around. Now it's viewed to be a good thing in the diet. All that has some impact on demand."
Dairy prices have nearly peaked, Brouk said, so consumers can expect to see lower prices in coming months.
Copyright 2017 The Lawrence Journal-World. All rights reserved. This material may not be published, broadcast, rewritten or redistributed. We strive to uphold our values for every story published.