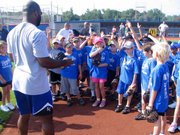 Nearly 100 area youth ages 5-12 took part in the Royals Youth Clinic on Saturday at Arrocha Ballpark.
Campers received instructional tips on hitting, fielding, pitching, catching and playing the outfield from former Royals players Dennis Leonard, Brian McRae, Les Norman, Ed Hearn and former Kansas University baseball coach Marty Pattin.
McRae, who played with the Royals from 1990-94, said doing summer camps and clinics gives him the chance to give something back.
"They're a lot of fun," McRae said. "You get a chance to reach some kids that might not ever have the opportunity to do things of this nature and kind of open their eyes to some things that may encourage them that if they're not playing ball to play, and if they are playing they continue."
Anna Whitcomb, 8, said her favorite part of the clinic was getting to play catcher. She took note of the tips from Hearn.
"Whenever you get the ball if you're at catcher you have to throw it and move your feet like that," she said as she took a step back with her right foot, and then moved it forward as she mimicked a throw.
Whitcomb took pleasure in getting advice from former Royals players, as well as just hanging around them.
Photo Gallery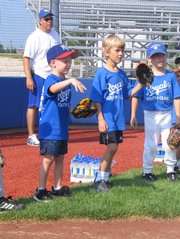 Royals youth clinic
Photos of the Royals Youth Clinic held Saturday at Arrocha Ballpark.
"It was cool," she said.
Whitcomb and other campers fielded grounders at second base as McRae rolled a tennis ball to them.
"When fielding don't get scared of the ball. It won't hurt you," he told them.
McRae said one tip for kids at an early age was to start by using tennis balls so kids aren't scared of fielding a baseball later on.
"Fear of getting hit with the ball will scare kids away from playing the infield," McRae said.
Five-year-old Harrison Hartzler attended the camp and said his favorite part was getting to run the bases. Like Whitcomb, he also learned something from the tips offered by the instructors.
"I learned how to bat a ball," he said, after getting tips from Norman.
Hartzler said he had been to baseball camps before, which was something McRae did not do much of as a kid.
"I just went to the ballpark with my dad (former Royal Hal McRae)," he said. "I had an advantage."
But fellow clinic instructor Norman didn't have the opportunity to hang around a major league ballpark growing up, nor was he able to attend any camps or clinics.
"I never had any opportunities when I was growing up," Norman said. "So I want to pour my heart and soul into any of these clinics that we do. And since these kids have the opportunity to do it, I want to do the best I can for them."
Norman, who participated in the Royals camp for the third year in a row, gave kids pointers on how to play in the outfield.
He said it was fine to begin with both hands resting on the knees, but if outfielders kept them there too long it would delay their break and they could lose between five and 20 steps running to catch a fly ball.
The former Royal noted the importance of young people taking advantage of their opportunities and abilities in whatever they do.
"If you have a gift and a platform and you don't use it, it's a wasted gift," Norman said.
Norman played for the Royals only briefly, getting stints with the club in 1995 and 1996 before an injured shoulder derailed his career. Norman's major league career lasted only 78 games.
He said getting injured was his toughest memory as a player, but it wasn't a regretful one.
"I was thankful for my time," he said.
Norman said his favorite memories as a player were getting a pinch-hit triple that won a game and just enjoying his time in the big leagues.
"Being a part of what I watched on TV when I was a kid dreaming, and then I was in that dugout and on that field actually doing what I set my heart to do when I was 6 years old was pretty amazing," Norman said.
Norman now spends his time giving motivational speeches and working at his hitting academy The Swing Builder in Lee's Summit, Mo.
Along with showing the clinic participants how to roam the outfield, Norman also offered some advice for parents, players and coaches about interacting with kids.
"Just spend time with them," he said. "Having a good time and encouraging them and building them up, they're gonna love baseball more, they're gonna love the Royals more, they're gonna be more confident kids when they get older and make better decisions."
Copyright 2018 The Lawrence Journal-World. All rights reserved. This material may not be published, broadcast, rewritten or redistributed. We strive to uphold our values for every story published.