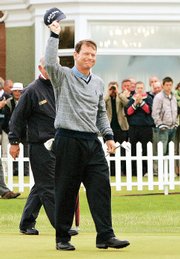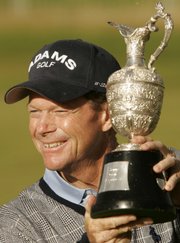 Guillane, Scotland — Tom Watson's three-shot lead in the Senior British Open was in peril, and memories of his back-nine collapse at the U.S. Senior Open three weeks ago came flooding back.
But that was in 90-degree heat at Whistling Straits. Sunday he was at cold and blustry Muirfield, where the five-time British Open winner and master of Scottish links courses is at home.
Watson fired his tee shot into a fairway bunker at the last hole and took two to get out of the sand, but survived a double bogey to win his third Senior British Open in five years.
"This has been a very serene week for me," he said. "The weather was right up my alley, good blowy conditions, a little rain here and there. The beauty of the place : I feel very comfortable."
Watson finally made it out of the sand, but then missed the green with his fourth shot. With playing partners Mark O'Meara and Stewart Ginn back in contention, Watson stroked his fifth, a putt from off the green, to within three feet of the flag and made that putt for a 73 and a one-stroke victory.
"It's important to get it done when you have to," Watson said. "It didn't look like it at 18, but I did put it in the wrong place (off the tee). It was a stupid shot. I didn't have too much opportunity with the first (bunker) shot. I didn't get it up far enough, and it rolled back in the bunker. But it rolled back in far enough where I had a shot out sideways. I got it up around the green somewhere, two-putted, and that was it."
Watson, who also won two Masters titles and one U.S. Open, captured his fifth senior major with an even-par total of 284 to earn $324,531 for the victory. He finished one ahead of O'Meara (72) and Ginn (75).
Copyright 2018 The Lawrence Journal-World. All rights reserved. This material may not be published, broadcast, rewritten or redistributed. We strive to uphold our values for every story published.