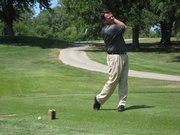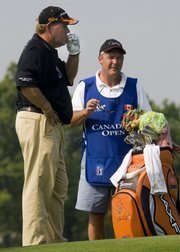 Two college teammates. One didn't play for pay, had to make a living in the real world. The other, still one of the most talented golfers on the planet, encountered fame and fortune and ungodly popularity.
Guess which guy is happier.
Jim Cummins, who lives in Lawrence with wife Eve and their three sons, never sat on top of his golf bag in the middle of a tournament, sobbing, the whole world watching him melt down the way his University of Arkansas teammate, John Daly, once did.
"I married the beer-cart girl," Cummins said from inside the offices of the Lawrence-based Golf Course Superintendents Association of America, where he works. "I'm living the dream."
Cummins, 40, was a year behind Daly at Arkansas and teamed with him for most of two seasons. He's Type A all the way, and a natural story teller. One of his stories captures just how lucky he considers himself. The other makes anyone with a heart want to root all the harder for Daly to still his stormy waters and realize his massive potential.
First, the happy story.
Cummins, a native of Springfield, Mo., who had transferred from Arkansas to what now is known as Missouri State after two years, took a job as assistant golf professional at Alvamar. In part as an excuse to throw a keg party, Cummins invited more than 50 people to his place to celebrate the first birthday of Harley, his Rottweiler. Cummins said he saw his wife for the first time at Alvamar, and once he chased down his breath and put it back in, he approached her and told her he would like her to stop by a birthday party he was having that night.
"Who's it for?" Eve wondered.
It wasn't until later that Cummins found out the vanity plate on Eve's car was: ILUVK9S.
"She was the only one who brought a birthday present for Harley," Cummins remembered with a smile. "Right then I said I've got to marry that girl."
Daly's, of course, is a more harried tale. Drinking woes. Emotional collapses on the golf course. Messy marriage. All on a public stage with no curtain.
"Probably one of the nicest guys you'll ever meet," Cummins said of Daly. "On the outside, you would think nothing bothered him. On the inside, he's constantly battling himself. He's a lot smarter than most people probably think. He just can't get away from himself."
He could get away from Steve Loy, his Arkansas coach, and so did Cummins, who said he thinks the same incident had a little something to do with both players leaving the Razorbacks' team.
"John showed up for practice one day, and Loy (verbally) undressed him in the locker room," Cummins said. "I can still see it perfectly. He tells him he's making the team and the University of Arkansas pay for his depression. 'You need to admit you're an alcoholic and you're tearing the team down right now.' The whole team was welling up at that point. It was like he took his spirit for the University of Arkansas golf team, reached right into his chest, pulled it out, and threw it in the trash. Took a piece of all of us, really. I still remember the little pauses (Loy) would take between the little pieces he would take from him. It was brutal."
Loy, who won three national titles as a coach, went from Arkansas, where he built a powerhouse, to Arizona State, where he coached Phil Mickelson.
Asked if Daly drank a lot in college, Cummins said: "We all did. It wasn't a party if you didn't watch the sun come up."
Cummins said he has lost touch with Daly but still roots for him from in front of his television set.
"Sometimes, watching him, you wish you could just run up to him, shake him, and tell him, 'Come on man, slow down,'" Cummins said.
Daly isn't the only character with whom Cummins has golfed. He played 18 holes with former Chicago Bears Super Bowl quarterback Jim McMahon: "He shot a 72 and played the whole round in bare feet."
Cummins wears shoes to work, and they aren't golf shoes.
"I enjoyed being a golf pro when I was singled, but that's a tough job for a family man," he said. "The hours are brutal. Sunup to sundown six days a week."
In his current job, Cummins said he educates non-members about the role he plays for members. Nobody watches him do that job on television, which is fine with him.
Copyright 2018 The Lawrence Journal-World. All rights reserved. This material may not be published, broadcast, rewritten or redistributed. We strive to uphold our values for every story published.