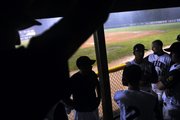 The rain that swept through Lawrence on Friday night caused problems for the American Legion Zone Tournament at Free State High.
The Lawrence Raiders were two innings into their game against Kansas City Piper when play was stopped with the Raiders holding a 2-0 lead.
In the bottom of the first inning Hunter Scheib and Ben Wilson scored the Raiders' runs off an error by the second baseman.
Then, in the top half of the second inning, things got a little shaky for Raiders starting pitcher Caleb Gress. After allowing a hit and issuing two walks to load the bases, Gress struck out the side to escape unscathed.
The game between Lawrence and Piper is scheduled to resume today at 5:30 p.m. with the loser facing the Topeka Senators for an appearance in Sunday's championship game.
However, field conditions may be an issue and force the games to be rescheduled again.
Copyright 2018 The Lawrence Journal-World. All rights reserved. This material may not be published, broadcast, rewritten or redistributed. We strive to uphold our values for every story published.