Photo Gallery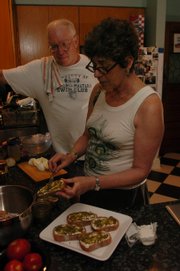 Kosher cooking
For many years, Neil and Leni Salkind had to drive to Johnson County if they wanted to buy meat.
That's because they follow the Jewish cultural and religious law of kosher - that foods have to be prepared according to certain rules for them to be eaten.
Though many nonmeat items in Lawrence grocery stores are kosher, buying meat always meant a trip out of town.
"If it were more convenient," Leni Salkind says, "we'd eat more of it."
In the last few months, it has become more convenient. The Community Mercantile, 901 Iowa, began carrying a line of kosher chicken breasts, ground beef and beef patties. They're selling well enough the store is planning to add prime cuts of kosher beef and possibly hot dogs.
Leni Salkind says it's the first time in her 34 years in Lawrence that kosher meat products have been available locally.
"In 1973, you couldn't even get a decent loaf of bread here," she says. "A lot has changed, but the kosher thing - no."
Rules of law
There are many details that go into making a food kosher, says Zalman Tiechtel, rabbi at the Chabad Jewish Center, 1203 W. 19th St.
Some examples:
¢ Jews don't eat foods such as pigs, lobsters and crabs.
¢ No mixing of milk and meat.
¢ Kosher food must be prepared by utensils that only have been used to prepare other kosher foods.
Because of a rise in interest in kosher foods, Tiechtel says, many food-production plants have become certified as kosher by Jewish organizations. That means many of the foods on the supermarket shelves already are kosher, and are marked with the logos of one of several accrediting agencies.
Meats, however, present their own challenges. First, animals must be slaughtered with sharp knives that minimize pain felt by the animal.
"Kosher is the most humane way to slaughter an animal," Tiechtel says. "That's why many non-Jews are becoming kosher. The animal doesn't feel one iota of pain."
Also, most of the animal's blood is drained during slaughter, and the meat is salted to remove most of the rest of the blood.
"We don't want to consume an animal's life force," Tiechtel says. "It doesn't belong to us. It belongs to God."
'Forget their roots'
Tiechtel says many Jewish Kansas University students from larger cities have to abandon their kosher ways when they come to the university.
One of those facing the challenge was Charles Goldberg, a junior from the Chicago suburb of Buffalo Grove, Ill.
Before now, he's relied mainly on frozen meat shipped by his parents, or meat that his fraternity brothers had shipped to them. He reserved one George Foreman Grill for cooking kosher foods.
"In Chicago, it's not that hard to find kosher meat," Goldberg says. "What happens to many Jews is they leave home and they forget their roots. Having kosher meat here is a reminder that you're a Jew."
Remaining kosher was important to him when he moved to Lawrence.
"Keeping kosher is a beautiful practice," he says. "It includes God in our lives in an aspect as mundane as eating."
Hot products
Tiechtel says he started having conversations with the Community Mercantile about offering kosher products several months ago.
JT Mueller, the store's grocery manager, says offering the products fit with the Community Mercantile's mission.
"We've been looking for ways to reach out to the community, to identify populations and groups that have been underserved with what stores are offering," Mueller says.
He says he has heard questions about kosher foods in the past, especially around Passover. With the store's remodeling, employees are trying to decide whether to have a separate kosher section. The Chabad Center is planning to take an inventory of the store's kosher offerings and post them at a new Web site, www.kosherlawrence.com.
"I've run into customers, specifically ones shopping for chicken or meat, who say, 'Oh my gosh - you got this? That's awesome,'" Mueller says. "The most luck I think we're having is in the meat department. Those are very stable items. Every week movement picks up on that stuff."
Big business
Tiechtel says he suspects many local Jews have abandoned eating kosher foods because of the inconvenience. He's hoping more start eating a kosher diet again.
"The idea is to make it as accessible as we can," he says.
Nationally, the kosher food market is a $10 billion-per-year industry and is increasing at a rate between 10 and 15 percent a year, according to Food Services of America, a food distributor. It says there are 86,000 certified kosher products on the market, up from 50,000 in 1996.
Tiechtel says non-Jews are becoming interested in kosher products, both for health and animal-cruelty reasons. He says Islamic dietary laws are similar enough to Jewish laws that some Muslims choose to eat certified kosher food, as well.
Leni Salkind says she's glad it will be a little easier for anyone wanting to keep kosher to follow the law.
"Of all those (Jewish) laws that are set out there - all 613 - this takes me a little bit closer to meeting them," she says.
Copyright 2018 The Lawrence Journal-World. All rights reserved. This material may not be published, broadcast, rewritten or redistributed. We strive to uphold our values for every story published.