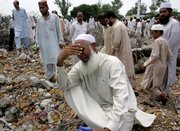 Islamabad, Pakisan — A bomb targeting police reinforcements ripped through a hotel restaurant in the Pakistani capital Friday, killing at least 13 people and wounding more than 61, as troops fought hundreds of protesters in a melee at the newly reopened Red Mosque nearby.
The blast, suspected to be the work of a suicide bomber, was the latest in a string of explosions and attacks that have rocked Pakistan, a U.S. ally, since a commando assault at the Lal Masjid, or Red Mosque, killed at least 75 people holed up there in a bloody two-day battle with Islamic militants earlier this month.
The police had staged in a large group at the Muzzafargarh restaurant Friday, ready to move if called to the protest. Instead, they were left picking up pieces of their friends from the street amid torn uniforms and shards of glass.
The bloodshed and increasing confrontation between hard-line Islamic factions and the government of U.S.-backed president Pervez Musharraf has many in Pakistan and Washington fearing that the country is at the edge of upheaval.
A recent U.S. intelligence report identified Pakistan's western tribal areas that border Afghanistan as a main haven for Taliban and al-Qaida leadership, prompting several American officials, including the White House spokesman, to say that U.S. strikes into Pakistan were possible.
The protest Friday took place at the Red Mosque, which a little more than two weeks ago was the scene of the pitched battle between government forces and militants led by a senior cleric.
Musharraf's government had hoped Friday would be a day of reconciliation, as hundreds of worshippers came to the mosque, which had been repainted off-white and renamed Jamia Masjid - the Main Mosque.
Instead, the crowd forced the government-approved imam to leave, seized the mosque while yelling "Death to Musharraf, Death to America" and calling for Islamic revolution, and then began splashing red paint on its minarets.
The crowd began searching through the rubble of a women's seminary next to the mosque, which the government had bulldozed after the battle. An arm with rotting flesh was tugged out, as was bloody clothing, a jumble of bones and burnt fragments of a Quran. A black shroud of cloth covered a mound on the dirt - witnesses said it was a body pulled out from under the debris.
"Musharraf will have to pay the price for this massacre," wailed one woman, who was sitting on a heap of bricks and twisted metal.
When paramilitary forces arrived with riot shields, men in the crowd began hurling rocks while chanting "Allahu Akbar" - "God is great" in Arabic. Tear-gas canisters followed, pushing the men back for a few moments before they regrouped and again began throwing stones.
Copyright 2018 The Lawrence Journal-World. All rights reserved. This material may not be published, broadcast, rewritten or redistributed. We strive to uphold our values for every story published.