Douglas County commissioners on Wednesday got their first look at a new development plan for 1,200 acres at the southeast edge of Lawrence.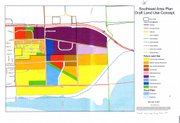 Their reaction was favorable.
"Basically, we like the proposal," Commissioner Charles Jones said.
The plan is the latest version of what's become known as the Southeast Area Plan. It outlines areas that would be used for residential development, as well as commercial and industrial development.
The plan centers on an area bounded by Kansas Highway 10 on the north; North 1300 Road on the south; Noria Road on the east; and O'Connell Road on the west.
Such a plan has been under discussion for about 15 years. A previous version of the plan was rejected in 2005 by county and city commissioners.
The county opposed that plan because it extended commercial and industrial areas from K-10 to south of North 1300, which is 31st Street in the city, Commissioner Bob Johnson said. He noted that the city is negotiating for the former Farmland Industries chemical plant property, which is west of the East Hills Business Park on the north of K-10.
"It would be too much industrial and commercial in that section of town," Johnson said.
The new plan keeps industrial and commercial areas north of 25th Street and allows the area south of 25th to be used for different levels of residential densities.
No official decisions were made by Jones and Johnson, who said they met just to see the new plan. Commissioner Jere McElhaney was not at the meeting because of business matters.
Johnson said commissioners want to convey their "comfort level" with the plan so that when it is passed out of the Lawrence-Douglas County Planning Commission it has a reasonable chance of being approved by the county. The City Commission also will have to approve it.
A joint meeting has been set for 7:30 a.m. Aug. 15 for the county, city and planning commissions to discuss the plan. The meeting will be in city hall.
Karen Heeb, who lives along North 1300 Road east of O'Connell, attended Wednesday's meeting and expressed concerns about how future extension and expansion of North 1300 might be designed.
Heeb and nearby neighbors said widening 1300 Road or moving the center line to the south would put what is expected to be a busy street too close to their houses.
Copyright 2018 The Lawrence Journal-World. All rights reserved. This material may not be published, broadcast, rewritten or redistributed. We strive to uphold our values for every story published.