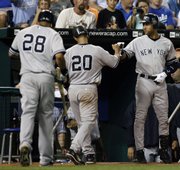 Kansas City, Mo. — Alex Rodriguez and Jorge De La Rosa have been here before, facing each other at a milestone moment.
Royals slice struggling righty Elarton
The Kansas City Royals released struggling right-hander Scott Elarton on Wednesday, one day after bringing him off the disabled list for a disastrous start against the New York Yankees.Elarton was the Royals' opening-day starter in 2006.He never has regained his form since shoulder surgery sidelined him for the final 71 games of last season and the first 36 games this year.
A little over two years ago, De La Rosa gave up Rodriguez's 400th career home run. Guess who'll be on the mound for Kansas City tonight, when A-Rod tries to become the youngest member of the 500-homer club?
"It's a crazy thing," Rodriguez said after hitting No. 499 off Gil Meche in the eighth inning of Wednesday night's 7-1 victory over the Royals. "It's pretty unbelievable that it could actually work out that way."
De La Rosa was pitching for Milwaukee on June 8, 2005, when Rodriguez became the first player with 400 homers before his 30th birthday. He had little to say Wednesday night about the prospect of facing Rodriguez with No. 500 possible.
"I'm going to pitch him very carefully," De La Rosa said.
Melky Cabrera and Hideki Matsui also went deep to help extend the Yankees' winning streak to six and bring them as close to the Boston Red Sox as they've been in 21â2 months.
Rodriguez had a chance to reach 500 in the ninth inning, but as flashbulbs popped he struck out against Octavio Dotel.
"I think for the most part, he would like to get it over with, and I know we would like to get it over with," manager Joe Torre said.
Copyright 2018 The Associated Press. All rights reserved. This material may not be published, broadcast, rewritten or redistributed. We strive to uphold our values for every story published.