Atlanta — The Atlanta Falcons hired Bobby Petrino because they thought he could turn Michael Vick into a complete quarterback. They signed Joey Harrington merely to serve as No. 7's backup.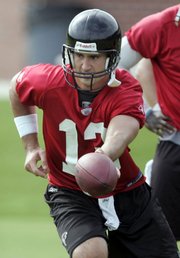 My, how things have changed.
Harrington is now the starter by default, leaving Petrino and the Falcons without their most prominent player as they prepare to begin training camp today in suburban Flowery Branch, Ga.
How can the Falcons possibly cope with the jarring change from Vick, who last season became the first quarterback in NFL history to rush for 1,000 yards, to Harrington, a first-round bust whose career record as a starter is 23-43?
"I know Joey has been through some hard times. He's been hit a lot. But he's hung in there," Petrino said. "The thing that impresses me most is his take-charge attitude."
Vick is barred from training camp while the NFL conducts its own investigation into federal charges related to dogfighting. He wouldn't have been at the first practice anyway; his arraignment in Richmond, Va., is set for today.
The Falcons planned to give their star quarterback a four-game suspension - the maximum punishment allowed to a team - but held off at the urging of commissioner Roger Goodell, who could impose even stiffer penalties under a new player conduct policy.
The sordid affair has left Vick with an uncertain future on the football field. He seems certain to face some sort of suspension even before his trial, and the Falcons didn't rule out the possibility of cutting him. Most seriously, he faces up to six years in prison if convicted.
With no choice but to move on, Petrino quickly anointed Harrington the starter and said the major battle of training camp will be deciding on a backup. D.J. Shockley and Chris Redman are already on the roster.
As for Harrington, he's done little to justify being the third overall pick in the 2002 draft. He was let go by Detroit after going 18-37 as its starting quarterback. During one year in Miami, he started 11 games but lost that job, too, after putting up a passer rating of 0.0 in a game against Buffalo near the end of the season.
Also, the 28-year-old Harrington is a conventional dropback passer, providing none of the scrambling or running ability that made Vick such a unique weapon (hard to hold that against Harrington, of course, since no other quarterback has that sort of speed and quickness).
The investigation of Vick began just weeks after Harrington was signed, so he's had all summer to prepare for the possibility of stepping in.
"If I do get a chance," Harrington said shortly after signing with the Falcons, "I'll be ready to help this team."
Copyright 2018 The Associated Press. All rights reserved. This material may not be published, broadcast, rewritten or redistributed. We strive to uphold our values for every story published.