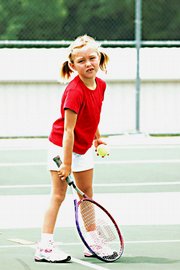 As the summer wanes and the major professional tennis tournaments end across the world, in Lawrence things are just getting started.
Tennis players ages 11-and-under have gathered on Wednesdays at Free State High to get started in tennis with with a sport called rallyball.
Rallyball is a variation on the game (played with a larger foam ball and smaller court lines) that offers beginners in tennis one of the most important aspects of any sport: fun.
"It's so important that they have fun," said rallyball director Kirsty Elliott. "They get rewarded for what they do and that keeps them into it."
That reward comes from the game's point system. Players try and maintain a continuous volley during play.
For every volley made, the team gets a point. Whichever team does not break the volley, wins the game and there is the possibility of tie, which is decided by a tie-breaker.
The points earned give the young players a chance to feel a sense of accomplishment.
"In regular tennis they can go through these fantastic volleys," Elliott said. "But at the end, after all of that work they have nothing to show for it. It helps keep them involved and interested in the game."
Eleven-year-old Dylan McKee feels rallyball has given him a new outlook on tennis.
"I don't really play tennis," McKee said. "But I thought this was really fun. I like hitting the ball back and forth."
McKee, who has participated in a few of Elliott's clinics, added that he could definitely see himself playing regular tennis more often in the future.
That interest is what Elliott hopes will be the basis for tennis to continue to develop in Lawrence.
"We hope it will be a gradual progression," Elliott said.
Although the rallyball season (sponsored by the United States Tennis Association) ended on Monday, the game could see some expansion past the summer months.
In the future the game could go from more than just a small group of kids on a single court, to a more citywide affair.
That is the direction where Elliott would ideally like to take the game.
"I would really like to see us go into the elementary schools," Elliott said. "I would like to have a league where all of the elementary schools played one another. That way we could try and make it a year around sport and we could play indoors."
For now, the emphasis on fun has gotten the program a strong foothold with which to possibly achieve Elliott's league goal.
"I'm really excited," Elliott said. "So many kids come up to me and tell me that they are interested in playing tennis."
The interest in rallyball and in the tennis has helped the players in other areas as well.
McKee said it was much easier to get out of bed in the summer when there was something fun to do.
Copyright 2018 The Lawrence Journal-World. All rights reserved. This material may not be published, broadcast, rewritten or redistributed. We strive to uphold our values for every story published.