Photo Gallery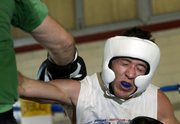 Walt's Boxing
Joining the gym
Walt's Boxing offers a variety of membership options and training services:
Single Day Visit - $5
10-visit punch card - $5 per day, expires two months after purchase
3-month membership - $141
6-month membership - $132
Military veteran rate - $111
It's just past 9 on a Thursday night. The last of the members left the gym more than an hour ago. Walt Ewert, 26, and Justin Montgomery, 25, stand alone in the middle of a regulation-sized boxing ring in North Lawrence, slugging it out.
As the two former Army buddies duck and dodge their way through a few rounds of sparring, they hardly seem to notice the stifling heat that radiates off of the yellow walls in the newly opened Walt's Boxing gym.
For now, they are two fighters sharpening their skills in a beat-up, old warehouse. They look into the future and see more.
"A lot of people are in our target market, but don't really know it," Montgomery said. "Our short-term goal was to create a place where we could work out and hang out in a boxing environment. But we want to grow. We want to generate community interest. We want to host events."
So far, they're batting .667. All that's left is putting on a show with a main event and undercard bouts. They aren't there yet.
Stuffed into nearly 2,000 square feet of the former Lawrence Hydraulic and Hose building, one mile north of I-70 on Highway 59, the gym is rough on the outside and lined with top-notch equipment inside. Since opening on June 12, more than 60 people have passed through the door at Walt's Boxing. Several have returned for weekly sessions. The gym has six full-time members and offers everything from a place to blow off steam or get into shape to full-fledged training and sparring opportunities.
The owners say their clients seek a change of pace from the more popular fitness centers in town. They covet the average Joe, the die-hard boxing fanatics, and everyone in between.
"That's one of the main reasons we didn't call ourselves House of Pain or Concrete Fists or We're Gonna Kill You Boxing," Ewert said. "With boxing, a lot of the draw is the learning curve. As you learn it, you have some real 'Aha!' moments and most people who try it find out they really like it."
That was exactly the way it went down for Gary Patterson, one of Walt's Boxing's first clients who committed to a six-month membership right away.
"I had done some martial arts before but never boxing," Patterson said. "This is just so much more practical. You learn things so quickly. In the first week, even though you're just getting into it, you learn so much. Plus you get a great cardio workout. I love it."
As for the story behind the name, that tale harkens back to the sport's glory days.
"We were thinking Old School, 1940s, when the national icon was the heavyweight champion of the world," Ewert said.
With his gift of gab as quick as his jab, Montgomery added: "Walt's seems to take you back to that era and you just feel it when you hear the name."
A handyman by day and boxing devotee by night, Ewert believes that treating people the way they want to be treated and offering them a chance to get in shape through boxing is the best way to make the new business a success.
"Skipping rope for 15 minutes is like running for 45 minutes," he said. "And hitting the heavy bag for two minutes can make you vomit. I get real excited about this opportunity but I also try to curb that, just to be real with it. For it to work, we can't make many mistakes."
That's where Montgomery and his Kansas University business degree enter the picutre. He made sure Walt's Boxing became an incorporated business and filled out the necessary forms to join the USA Boxing Commission. The gym's marketing campaign was low-budget but effective. They handed out 100 flyers and 200 business cards and posted a smattering of messages on internet sites such as craigslist.com and facebook.com.
"Those guys aren't out to become millionaires," Patterson said. "You can tell they're very passionate about what they do and they're just great guys."
The new business venture meshes nicely with Montgomery's training for the Ringside World Championships (July 31-Aug. 4 in Kansas City, Mo.). It features more than 1,000 fighters and bills itself as the world's largest amateur boxing event. Ewert will serve as Montgomery's corner man.
Walt's Boxing is open from 5-to-9 p.m., Monday through Friday and offers a variety of membership packages from a $5 daily pass to signing up for six months of uppercuts and jumping rope.
"We think that's the most flexible you can get," Ewert said. "I'll give anyone a free workout just so they'll try it. We just want to get people interested in boxing and have some fun at the same time."
Copyright 2018 The Lawrence Journal-World. All rights reserved. This material may not be published, broadcast, rewritten or redistributed. We strive to uphold our values for every story published.