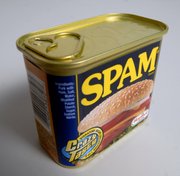 Facts about Spam
According to Hormel Foods:
Ingredients include ham, pork, sugar, salt, water, potato starch and sodium nitrate.
It was introduced in 1937.
There are 12 varieties of Spam: lite, less sodium, hot and spicy, hickory smoke flavored, oven roasted turkey, with bacon, with cheese, with honey, single classic, single lite and spread.
More than 90 million cans of Spam are sold annually in the United States, or three every second. More than 122 million cans are sold annually worldwide. Since 1937, 7 billion cans have been sold.
Hawaii consumes more Spam than any other state, per capita. Rounding off the top five are Alaska, Arkansas, Texas and Alabama.
The first SpamMOBILE hit the streets in 2001 and now makes about 675 stops per year.
Hormel says Spam isn't an acronym or combination of words. "In the end, Spam means Spam."
Source: Hormel Foods
Rick Pinne grew up on Spam. "I liked it," he says. "A lot of people made fun of it, but it always tasted good to us."
Around college time, he and friends realized the canned meat product had a special, almost medicinal quality to it.
"It worked as a great pre-hangover food," Pinne says. "At 2 o'clock in the morning, you'd fry up some eggs and Spam."
Pinne is a lifelong fan of Spam, which is the butt of many jokes, the subject of a Monty Python comedy troupe sketch and has a computer term for junk e-mail named for it.
But even with his appreciation for canned ham, Pinne was able to take his admiration to a new level two weekends ago. He drove to Fremont, Neb., to participate in that community's Spam cook-off.
Pinne, a 61-year-old retiree, made Yucatan Spam, a Latin dish that typically is made with pork shoulder. But Pinne substituted Spam - which Hormel Foods says is made of ham, sugar, salt and potato starch - for the pork shoulder. Other ingredients included oregano, all-spice, ground annato seed, garlic and orange juice soured with lime and lemon juice. The pork is wrapped in Swiss chard leaf.
"As a matter of fact, I can't tell the difference between the Spam version of it and the original," Pinne says. "I thought it tasted very good. But the Nebraska judges weren't ready for that."
Cooking tips
Pinne, who drove to Nebraska with three friends from Lawrence, says many of the 20 finalists at the Spam cook-off made pretty boring dishes. The winner was far from gourmet - it was a Spam corn dog.
Others included a Spam Reuben sandwich and potato latkes with Spam.
Pinne usually just fries it like a piece of bacon, or fries it with potatoes or cheese. (Hormel no longer makes Spam with cheese already in it).
The only challenge to cooking it, he says, is that it's already cooked and has high salt content.
"You can't cook it very long without turning it into something not very edible," Pinne says.
So if you're cooking Spam in a more complicated dish, you have to pair it with other ingredients that cook quickly.
Cultural phenomenon
Fremont, incidentally, is home to a Hormel Spam plant, though Austin, Minn., considers itself home to Spam and bills itself Spamtown USA.
Cheryl Corey, executive director of the Austin Convention and Visitors Bureau, says the town's Spam Museum has generated nearly 400,000 visitors in its first four years. That's a testament, she says, to how much Spam has seeped into popular culture.
"We poke lighthearted fun at ourselves," Corey says. "We have Spambassadors as tour guides in the museum, serve Spamples in the museum and have a nationally known singing group here called the Spamettes. Why not make it fun?"
Corey loves Spam, and not just because she's paid to help promote it. She likes open-face sandwiches, with ground Spam, cream of mushroom soup, onion and cheese. She also likes grilled turkey Spam (another variety) on a bun with tomato.
But she's also aware people turn up their noses - and sometimes plug them - at Spam.
"We embrace what we have," Corey says.
Hormel officials, incidentally, declined interview requests to talk about their Spam.
But Pinne has no problem talking about it. He dismisses anyone who wants to make fun of Spam.
"I put it down to ignorance," he says. "They've either never had it or can't imagine what it's like. It's just a pork product - I'm sure Emeril likes it."
Chile Rellenos
1 pound poblano chiles
1 Spam Classic (12-ounce) can cut into 1/2-inch strips
1/2 cup tomatillos
6 (1-ounce) slices mozzarella cheese
Salsa
In a heavy 10-inch skillet, place chiles and Spam. Cover. Cook over medium-high heat 12 to 15 minutes or until skin chars on all sides of chiles. Place chiles in plastic bag. Let stand 5 minutes. Remove skin. Stir tomatillos into skillet. Slit and stuff roasted chiles with Spam mixture. Place cheese slice over each chile. Return to skillet. Cover. Cook over medium heat 3 to 4 minutes or until cheese is melted. Serve with salsa.
- Source: Hormel Foods
Spam Pizza Sandwiches
1 can Spam classic
3 English muffins, split
6 tablespoons pizza sauce
6 tablespoons shredded mozzarella cheese
Slice Spam into six slices. In skillet, over medium heat, cook meat until lightly browned. Spread cut sides of muffins with pizza sauce. Layer meat and cheese on muffin. In microwave oven, heat sandwiches on high for 1 to 2 minutes or until cheese is melted.
- Source: Hormel Foods
Spam Chowder
1 can Spam
1-2 onions, chopped
3 potatoes, diced
1 can tomato soup
1 cup corn
Diced green peppers
Salt and pepper to taste
Cut Spam into small chunks. Brown in skillet in small amount of oil. Add chopped onions, diced potatoes and enough water to about cover potatoes. Cook until potatoes are almost done. Add corn, diced peppers and a can of tomato soup. Stir well and simmer until done.
- Source: www.cooks.com
Cheese and Spam Casserole
1 (7 1/4-ounces) package macaroni and cheese dinner
1 (10 ounces) package frozen peas, partially thawed
1 (10 3/4-ounces) can condensed cream of celery soup
1 (12 ounces) can Spam luncheon meat
Prepare macaroni and cheese dinner as directed on package, except using 3/4 cup milk. Add peas and soup; mix well. Pour into 11 3/4-inch-by-7 1/2-inch baking dish. Cut Spam in half lengthwise, then slice into 8 slices. Arrange luncheon meat in checkerboard pattern, beginning first row on one end of dish with three slices, then two, then three, etc.
Bake at 350 degrees for 30 minutes.
- Source: www.cooks.com
Cantonese Sweet and Sour
2 tablespoons cooking oil
1 large carrot thinly sliced on the diagonal
6 green onions sliced into 1/4-inch pieces
1 clove garlic minced
2/3 cup water
1 tablespoon cornstarch
3 tablespoons sugar
3 tablespoons catsup
3 tablespoons vinegar
1 teaspoon ginger
1 teaspoon soy sauce
1 can Spam Classic (12-ounce) can cut into 1/2-inch cubes 1 (8-ounce) can bamboo shoots drained
1 small cucumber cut into 1/2-inch chunks
In wok or large skillet, cook oil over medium heat. Add carrot, green onion, and garlic; cook over medium heat, stirring occasionally, until crisp-tender about 4 to 5 minutes. Add next 7 ingredients. Continue cooking, stirring constantly, until sauce is thickened about 5 to 6 minutes. Add Spam, bamboo shoots and cucumber. Cook over medium heat until heated through. If desired, serve over rice.
- Source: Hormel Foods
Copyright 2018 The Lawrence Journal-World. All rights reserved. This material may not be published, broadcast, rewritten or redistributed. We strive to uphold our values for every story published.