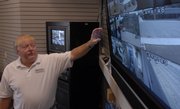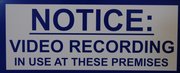 Helping police catch an attempted murder suspect was the last thing on an Ottawa convenience store owner's mind when he installed a new surveillance system.
But on the night of Dec. 19, 2006, the cameras at Chuck Waymire's business were rolling - much to the delight of police as they investigated a shooting.
Moments after Michael S. Miller was shot and left in the street that night in the 1500 block of South Hickory Street, a woman used a pay phone outside Waymire's business, a Valero gasoline station and Stop N Shop.
"The Ottawa police had come in here and wanted to know if there was any way that we would have known who made a call out there at 10:45 p.m.," Waymire recalled. "That's the only thing they knew - a telephone number at such and such time."
Although the station was closed, his 14 security cameras were recording images, including one that later helped authorities apprehend Lisa Winter.
"You could see the lady come up, and the blue van that picked her up," Waymire said.
Crime-fighting cameras
Digital surveillance systems like Waymire's are becoming more common as costs drop and technology advances. The systems also are proving to be a good tool for law enforcement and prosecutors.
"We were excited," Waymire said. "This was real new to us : this was the second or third week that we had (the system)."
Miller was shot hours before he was scheduled to testify against Louis G. Galloway in an aggravated battery trial in Lawrence. Galloway, 43, Lawrence, had been charged with battering Miller, 48, in 2005. He was convicted of those charges in February.
After Miller's shooting, Winter, 38, and Lee Roy House, 44, Kay F. Gaillard-Taylor, 49, and Jeffrey A. Campbell, 29, all of the Lawrence area, were charged with attempted first-degree murder and conspiracy.
Winter, who pleaded no contest to attempted second-degree murder charges, is scheduled to be sentenced at 1:30 p.m. Aug. 6, while House has been ordered to serve a three-year prison term. The other two cases still are being prosecuted.
Cost of surveillance
Douglas County District Attorney Charles Branson said video surveillance has helped prosecutors in his office with several cases.
"(Video) has helped identify the suspects and led to convictions once the defendants saw themselves," Branson said.
But quality is key.
Low-end equipment provides poor images, according to Jack Proctor of Rueschhoff Security Systems in Lawrence. Insufficient lighting and reuse of videotapes over time also reduce quality.
Business owners can spend between $100 and $700 each on cameras. But in a digital system, the real cost lies in the recorder, Proctor said. Consumers can expect to pay between $3,000 and $5,000 for a digital video recorder, he said.
The district attorney's office wants business owners to see quality equipment as an investment in safety.
"With the digital age, we're hoping that more people will upgrade their systems and invest in some better hardware," Branson said. "That way, we can get better images for their cases."
Mark Visbal, director of research and technology for the Security Industry Association, estimates that within five years, analog video formats - those that use VHS videotapes - will be obsolete and their grainy, often unidentifiable images will be a thing of the past.
'It will pay for itself'
Waymire said his video system helps in situations far less dramatic than an attempted-murder investigation.
The system records people who drive away without paying for their gasoline. And because cameras at the cash registers are continuously recording, they can identify bad-check writers. Each time a customer writes a check, a cashier writes the time and date on the check. If the check bounces, Waymire can print a still photo from the surveillance video that is distributed to cashiers.
At 76, Waymire doesn't consider himself a technology expert, but he said the system has been surprisingly simple to use.
"Really, it will pay for itself," he said. "It's the best money I've ever spent."
It's been so valuable, Waymire said, he plans to add two cameras at the business later this year.
Copyright 2018 The Lawrence Journal-World. All rights reserved. This material may not be published, broadcast, rewritten or redistributed. We strive to uphold our values for every story published.