Los Angeles — Voice-over work in Indianapolis wasn't too lucrative, so Daniel Geduld made a classic actor's move: He headed for L.A. And like most Hollywood dreamers, Geduld didn't get hired for much.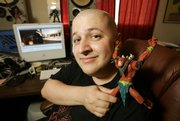 So Geduld combined his creative talents with his abundance of free time and re-edited footage from the 1980s "He-Man and the Masters of the Universe" cartoons, redubbing it to make the evil Skeletor and his cronies into a bumbling gang of losers. Geduld added incongruously peppy jazz by Django Reinhardt, called his farce "The Skeletor Show" and posted episodes on Google Inc.'s YouTube.
Geduld added his e-mail address to the credits, along with this line: "Please give me a job. I'm talented."
While Geduld didn't think much could come of the joke, he was underestimating how much the Internet has broadened the ways people get discovered today, often for jobs in the entertainment industry that didn't exist until a few years ago.
Enough people liked "The Skeletor Show" that it got mentioned on some popular blogs. Before long, several Web sites were paying Geduld to do similar comedic "mash-ups" for them. Video portal Heavy.com hired Geduld to be a voice for its new horror channel.
When he got the first e-mail inquiring about his services, Geduld, 30, was shocked.
"Oh, my God," he thought. "This actually worked!"
The first few gigs paid only about $500, he said, but now he's making "enough to support myself," and offers keep coming. A tech company asked if he'd do promotional material. Then came an invitation to a sci-fi convention.
"It just gets better and better," Geduld says. "I'm thinking of getting an agent."
Searching for stars
Now that the Web has blown things open, it is easier than ever to get discovered. Web sites trying to develop into entertainment hubs are hungry for people to write, shoot or star in new content, so its representatives scan for talent in the piles of homemade videos on MySpace, YouTube, Revver and personal blogs.
It's certainly no secret that the Web can launch new faces. The medium already has its tales of regular Janes who made it big, like Lisa Donovan, who leaped from YouTube to the cast of Fox's "MadTV," and Brooke Brodack, a Net video character signed to a TV production deal by Carson Daly. This is the vision that drove the creators of YouTube's "LonelyGirl15" faux-reality videos.
But the lesser-known story is of nonstars like Geduld, riding the Web's radical openness to find new kinds of online entertainment work.
Often these online jobs are with sites that may be a step above the user-generated schlock of YouTube, but still are sorting out the economics of advertising. As a result, discovery sometimes comes with modest trappings. And it often extends to people who wouldn't have made it through Hollywood's old-school gatekeepers - or even tried.
Clicking onto the scene
In many ways, today's talent search is a reprise of the height of the dot-com boom. Then, sites such as AntEye, Icebox, Mediatrip and Z.com cast themselves as "incubators" and served as scouts for film studios and television networks, essentially producing low-cost pilots and hoping for a hit.
That model has resurfaced. Last year, UTA, one of Hollywood's biggest talent agencies, launched an online division to scout for people who could be in videos for ad agencies, Web sites and traditional media outlets. While most agencies refuse unsolicited work, UTA encourages online submissions.
Grouper.com, a site owned by Sony Corp., decided to stop trying to make money from user-generated videos and will focus instead, under the name Crackle, on scouting online prodigies for Sony.
But Steven Starr, a former talent agent who heads the Web video site Revver, says what he sees emerging is "a creator economy online" whereby the Internet will carve out its own slice of the action, rather than just serving as a development league for TV and film.
"That will start to make it possible for any creator to develop income and careers online and not just be fodder for large media enterprises that are looking to move them off onto other platforms," Starr says.
Even if untapped talent is not necessarily easy to find, the economics of Web entertainment startups dictates that they try hard to do it. Old-school casting calls - and Hollywood's union contracts - wouldn't work for digital media that comes together quickly and relatively cheaply.
"Hollywood as it exists today was built to produce a relatively small number of very large productions," says JibJab's Gregg Spiridellis. "The new studios ... in digital are going to exist in a way where they can produce a very large number of small productions. I need to produce content at the price of the craft services table on a television shoot."
Copyright 2018 The Associated Press. All rights reserved. This material may not be published, broadcast, rewritten or redistributed. We strive to uphold our values for every story published.