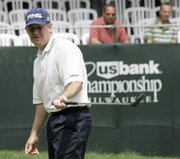 Milwaukee — Jeff Maggert turned to an old friend to help straighten out his sagging golf game, dusting off a Ping Anser putter that might be older than his five children.
Maggert, who missed the cut in his previous four tournaments, put a putter he has had for "probably 15 or 20 years" and a new set of irons to good use at Brown Deer Park on Thursday, shooting a 7-under-par 63 to tie rookie Brendon de Jonge for the lead in the first round of the U.S. Bank Championship.
For all the technological advances to hit the golf world in the past two decades, Maggert said the familiar feel of an older club sometimes makes all the difference.
"It made me think a little bit more about making putts instead of worrying about missing putts," Maggert said. "It's confidence more than anything, I guess."
Confidence has been fleeting lately for Maggert, a PGA Tour veteran with three career victories. At 43, family obligations keep him from practicing as intensely as he used to, and he admits he's having a hard time keeping up with golf's hard-charging younger generation.
That group might now include De Jonge, a native of Zimbabwe who played collegiate golf at Virginia Tech. One day after his 27th birthday, he shot a 63 to claim a share of the lead.
With most of the top PGA Tour players overseas for the British Open this week, de Jonge said this tournament could be an opportunity for a young player to break through.
"It's a good chance for any young guy to get a win," de Jonge said. "Obviously, it's not as strong a field by any means, but it's still always going to be a good field."
De Jonge holed out a chip shot from 100 yards away to eagle the par-4 second hole. But he didn't actually see the shot fall because the hole is a dogleg left with a blind approach.
"We just heard the lady behind the green," de Jonge said. "She got pretty excited, so we figured it was either in or really close."
Maggert also had an eagle during his round, making a 20-foot putt on the par-5 15th hole.
"Sometimes, when you change something like a putter or an iron, it just takes some negative focus away from some negative things and puts some positive thoughts in your head," Maggert said.
Copyright 2018 The Associated Press. All rights reserved. This material may not be published, broadcast, rewritten or redistributed. We strive to uphold our values for every story published.