Tonganoxie Braves starting pitcher Amie Riddle hadn't shown any worries on the softball fields in the first two days of the American Fastpitch Association "B" National Championship Tournament.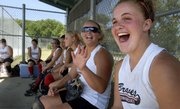 But she admitted Wednesday that something looming this weekend was starting to creep into her mind: college dance camp.
"I'm not sure if I'll exactly get to play all week, but I'd like to play as many games before I have to leave," Riddle said. "But I actually saw my college softball coaches, and they said they were going to call my dance coach and tell her that I needed to stay. So I might actually get to stay."
Considering the way Riddle pitched on Wednesday, the Braves would love to keep their ace around.
Tongie rode Riddle's strong performance in the final two games of pool play to get a 2-0, nine-inning victory over the Ottawa Sabotage and a 2-0 win over the Nebraska Storm - thus clinching a first-round bye.
In the first game, Riddle found herself in a pitching duel with Ottawa Sabotage's Kelsey Graham.
Graham opened the game by striking out five of the first six Braves batters and finished with 18 strikeouts in nine innings.
"They had some good batters, but I just kept throwing it high to them, and they were biting," Graham said. "It was a good duel though. I've never been in a game like that. It was a good game."
For Riddle, it took a few innings before she started accumulating strikeouts. She still ended with 14 strikeouts while issuing just one walk and allowing three hits.
Riddle went all six innings in the game against the Storm as well and allowed just one hit with two walks and six strikeouts.
The Braves didn't collect a hit in their win over the Storm, managing six walks and benefiting from three Storm errors.
Ashlee Lohman scored the first run thanks to a throwing error by the catcher attempting to pick her off at third base. Then Amanda Darrow came in on a sacrifice fly - in foul territory - by Melissa Pratt.
"We sucked. I mean, we flat out stunk it up - but good teams will win when that happens," Braves coach Craig Lohman said with a laugh. "We take advantage of every opportunity that's presented that I can see that we can take advantage of ... and my other coach helping us, Curtis Smart, played for the University of Texas baseball so he's a very knowledgeable guy too. So he sees weak spots too, and we take advantage of all of that."
For the Lawrence Phenix-Fyler team, Wednesday produced more offense then their one-hit game on Tuesday.
The offense was strong in their first game, a 7-0 win over the Kansas City Explosion, collecting nine hits in five innings of play.
"We were just able to get the bat on the ball finally and score some runs. We were aggressive on the bases and put it all together," said Sarah Cochran, who went 1-for-2 with a double and two runs scored.
In their final pool play game, the Phenix-Fyler team couldn't continue the momentum and fell to the Missouri Sparks, 2-1.
Samantha Hays, who had gone 2-for-2 with an RBI and two runs scored in the win over the Explosion, went 2-for-3 with a double in the loss. Hays scored the only Lawrence run off of a sacrifice fly by Hannah Somers.
Lawrence Phenix-Rusk struggled offensively in both of its pool play games on Wednesday.
In the first game, a 5-0 loss to the Flames of Nebraska-Red Hot, Flames pitcher Morgan Pusek held the Lawrence team to five hits and stranded seven runners on base - six in scoring position.
In a 4-0 loss to Churchville (Maryland) Lightning, the Phenix-Rusk was shut out once again despite getting eight hits, including a double by Karen Spence.
"We didn't play too well defensively. We left way too many runners in scoring position and just didn't do any of the little things we needed to do," said Phenix-Rusk coach Jay Rusk, whose team committed two errors in each game. "This team isn't known for making bad throws or hesitating on our defense. We're not know for that."
Phenix-Rusk will start bracket action against Cemo Havoc at 2:30 p.m. today at the Clinton Lake Softball Complex. Phenix-Fyler will begin against the Bellevue (Neb.) Lady Bruins at 12:30 at CLSC.
With a 3-0 record in pool play, the Braves earned a first-round bye and won't have to play until 4 p.m. today at Youth Sports Inc.
Copyright 2018 The Lawrence Journal-World. All rights reserved. This material may not be published, broadcast, rewritten or redistributed. We strive to uphold our values for every story published.