Steve Kerner figures customers won't get tired of his new restaurant, Ingredient. "You can eat here an infinite number of times," he says, "and never eat the same thing twice."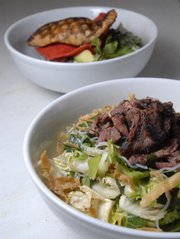 That's because the centerpieces of his month-old restaurant at 947 Mass. are personalized salads. Diners can choose from 55 ingredients and 13 dressings.
With each salad coming with five ingredients for $7.50 - or additional ingredients for 75 cents each - customers have some difficult choices when it comes to pairing their foods.
Kerner's restaurant, which also sells pizzas and sandwiches, divides the 55 ingredients into seven categories: greens, vegetables, fruits, cheeses, meats/eggs/beans, crunchy toppings and pastas.
"We want people to think about it," Kerner says. "So far, it's really good."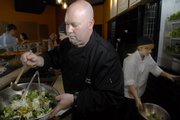 Basic rules
There's no right or wrong answer when it comes to making a salad, but Kerner follows some simple rules.
First, there should be variety in colors. A salad with all dark ingredients, for instance, might not be as appealing as one with a spectrum.
"It should be more vibrant," Kerner says.
Then there are textures. That's why Kerner has an entire category devoted to crunchy foods, such as nuts, croutons and tortilla chips.
Another consideration is flavors. Kerner suggests avoiding too many dominant flavors.
"If you have a bunch of fruits," he says, "a chipotle dressing might not be as good. Especially in the summer, fruits and nuts are good ingredients, and you can have them with the fruitier vinaigrettes."
Be adventurous
Another consideration for making salads, of course, is to cover your basic food groups.
Nancy O'Connor, director of education and outreach for the Community Mercantile, 901 Iowa, suggests the fundamental building blocks of proteins, fats and carbohydrates.
"That will help making a salad that is satisfying and enough to be a meal," she says.
O'Connor says anyone can make a salad using lettuce and cover it with ranch dressing. But she says nearly any ingredient can help make for a good salad.
Some of her favorites include dried fruits, fresh fruits such as mangoes and peaches, and feta cheese.
Others available at Ingredient include roasted mushrooms, balsamic glazed onions and honey-ginger carrots.
"It's fine to have raw vegetables," O'Connor says, "but if you take the time to roast them, the salad tastes deeper and richer."
O'Connor agrees that not all flavors go together, though.
"With salad bars, people got used to dumping everything on salads, and it's just that - a mishmash of tastes," she says. "It should be tasty and interesting, and not have so many ingredients that it's just a glop of flavor with creamy salad dressing. You should be able to pick out individual tastes and savor them."
O'Connor says heavy dressings often mask the flavor of salad ingredients, especially flavorful greens such as arugula.
Recipe for success
Kerner, a native of Chicago who has lived in Overland Park since 1993, has a variety of experience in the restaurant industry, including time with 75th Street Brewery and Mosaic Bistro in the Kansas City area.
He's long wanted to start a restaurant where, as he puts it, "the main focus is on fresh, good ingredients at a moderate price that makes it approachable."
For now, all of his ingredients are provided by distributors. He'd eventually like to purchase some from local and regional farmers to have special ingredients - such as heirloom tomatoes - on certain days.
So far, the restaurant has been popular. Kerner thinks the concept will work well in Lawrence.
"I call it gourmet fresh casual," he says.
Copyright 2018 The Lawrence Journal-World. All rights reserved. This material may not be published, broadcast, rewritten or redistributed. We strive to uphold our values for every story published.