In Lawrence Phenix-Rusk's first game of pool play in the American Fastpitch Association "B" National Championship Tournament, its opponents, the Overland Park Stealers, almost lived up to their names.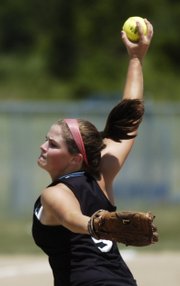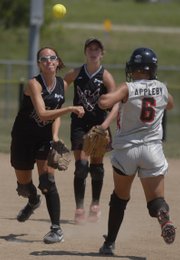 With Phenix-Rusk up six runs going into the fourth inning, the Stealers scored four runs, but weren't able to mount another comeback as the 18-and-under Phenix-Rusk team won, 6-4.
"It's one win in pool play so that's all that really matters," Phenix-Rusk coach Jay Rusk said. "Even ugly wins are good at this point."
Phenix-Rusk scored two runs each in the first, third and fourth innings.
Leading the way offensively was Kristen Harris, who went 2-for-4 with an RBI double and two runs scored.
"I was a little nervous," said Harris, who knocked in the first run with her double. "I don't like having a lot of pressure on me - first at-bat and having to score the first run. Other than that, it was a pretty good day."
Starting pitcher Callie Craig also went 2-for-4 from the plate. Craig struck out four batters in six innings to earn the victory.
Lawrence Phenix-Fyler wasn't as successful. Fyler was shut out, 4-0, by the Kansas State Techno Cats of Salina.
"If they don't finish in the top seven, I'll be surprised," Phenix-Fyler coach Randy Fyler said about the Techno Cats. "I've seen them play before, and that's a good ballclub. It's just a good all-around team."
Techno Cats starting pitcher Katie Ford, who struck out eight batters in seven innings, came one awkward bounce away from a no-hitter.
In the fourth inning, Phenix-Fyler's Kylie Waite knocked a ball down the first-base line that kicked off of the bag and out of reach of the Techno Cats first baseman.
The only highlight for the Phenix-Fyler team came from center fielder Samantha Hays. In the bottom of the fifth inning, Hays was able to track down a deep fly ball before landing on the other side of the mesh fence and robbing the Techno Cats of a two-run home run.
"That was an amazing play," Fyler said. "She just really runs the show out there in center field."
Amie Riddle from the 18U Tonganoxie Braves team had a similarly impressive pitching performance against the Overland Park Fireballz.
Riddle struck out six batters, gave up two hits and one unearned run in a 9-1 win on Tuesday.
"I was pumped. I've been pumped all day," said Riddle, who pitched all four innings of the Braves' victory. "I couldn't wait, so I was ready to go."
Riddle also was pumped at the plate, going 2-for-3 with a double and two RBI's. Her teammate, Tracie Hileman also went 2-for-3 and scored twice.
"Can't go wrong with that," said Hileman about the team's 8-for-17 day at the plate. "The national tournament is always a big motivator. You want something amazing to happen for bragging rights."
The Ottawa Sabotage was able to secure a 9-8 victory over the Basehor Lady Sox in its first game of pool play. The Sabotage and the Braves will square off at 11 a.m. today at the Clinton Lake Softball Complex.
All of today's games in the 18U division will be held at the CLSC. Phenix-Rusk will start its day at 8 a.m., while Phenix-Fyler will start the second day of pool play at 12:30 p.m.
Copyright 2017 The Lawrence Journal-World. All rights reserved. This material may not be published, broadcast, rewritten or redistributed. We strive to uphold our values for every story published.