Sao Paulo, Brazil — A passenger jet crashed and burst into flames after skidding off a runway at Brazil's busiest airport Tuesday and barreling across a busy highway during rush hour, officials said. All 175 people on board were feared dead.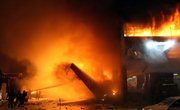 The crash happened in a driving rain on a runway at Congonhas airport that had been criticized in the past for being too short. The TAM Airlines jet slammed into a gas station and a building owned by the airline, said Jose Leonardi Mota, a spokesman with airport authority Infraero.
TV footage showed flames and clouds of black smoke billowing into the air after the crash.
"I was told that the temperature inside the plane was 1,000 degrees (Celsius), so the chances of there being any survivors are practically nil," Sao Paulo State Gov. Jose Serra told reporters at the airport. That temperature in Celsius is equivalent to about 1,830 degrees Fahrenheit.
The crash - Brazil's second major disaster in less than a year - highlights the country's increasing aviation woes. In September, a Gol Airlines Boeing 737 collided with an executive jet over the Amazon rainforest, causing the passenger jet to crash, killing 154 people.
Since then, there have been questions about the country's underfunded air traffic control systems, deficient radar system and the airlines' ability to cope with a surge in travelers. Controllers - concerned about being made scapegoats - have engaged in strikes and work slowdowns to raise safety concerns, causing lengthy delays and cancelations.
TAM Airlines initially said there were 176 people on board the Airbus-320 that crashed, then later lowered the total to 175 - 169 passengers and six crew members. Brazilian Congressman Julio Redecker was among those on the flight, but an aide did not know whether he was dead.
Vans used by Sao Paulo's morgue sped away from the site hours after the crash and a doctor helping rescue workers told CBN radio that efforts were being made to identify 30 bodies.
"I can verify 30 burned bodies and I know that there are burned bodies in another location," Dr. Douglas Ferraz said in the interview.
As many as 12 people on the ground were injured and taken to hospitals, Serra said.
TAM Linhas Aereas flight 3054 was en route to Sao Paulo from the southern Brazilian city of Porto Alegre when the crash occurred upon landing, TAM said in a statement.
Critics have said for years that such an accident was possible at the airport because its runway is too short for large planes landing in rainy weather.
Copyright 2018 The Associated Press. All rights reserved. This material may not be published, broadcast, rewritten or redistributed. We strive to uphold our values for every story published.